My Favorite Healing 'Crystals' – Part 1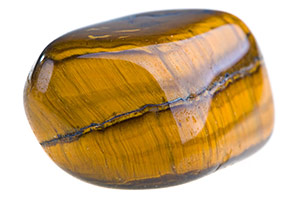 I absolutely love crystals. Some people may call them "stones" or "rocks", I call them "healing crystals". Anyone who collects them for metaphysical purposes will often refer to them as such.
Crystals all have a vibration and discharge energy. Quartz Crystal, for example, are used to power wrist watches and I'm sure many other devices.
Tourmaline is wonderful as its absorbs Electro Magnetic Frequencies (EMF). I use them in making grids for protection from negative people and electric pollution. I will explore Tourmaline further in another blog post.
My very favorite healing crystal is called "Tiger's Eye." Tiger's Eyes is used to open the Third Eye, when doing healing on the body and also used when doing a chakra cleansing. The Zodiac sign that it gravitates to is Leo and Capricorn.
The crystal is a neutral object whose inner structure exhibits a state of perfection and balance. When it's cut to the proper form and when the human mind enters into relationship with its structural perfection, the crystal emits a vibration which extends and amplifies the powers of the human mind.  ~ Dr. Richard Gerber
Tiger's Eye is popular because it is fantastic when it comes to personal protection. If you have to be around negative people or energy vampires this stone will be your best friend. In ancient times it was used in war. Roman Soldiers would wear it in battle to protect them from harm. It also is believed to help one be invisible, or just not recognized or seen.
One of my favorite things about Tiger's Eye is that it gives you great night vision. It's wonderful for helping you to see in the dark! Also, it is good if you are overworked, like I find myself to be so often, and it also helps with unblocking creative potential.
I was talking recently with a very good acquaintance of mine, who I enjoy talking about all things healthy and nutritious. I was telling her how I am going to start blogging about my favorite crystals. She gave me some information about Tiger's Eye I didn't even know about.
No two crystals are the same. They are like snowflakes. Each crystal has its own particular vibration, and each will resonate differently. Look for one that will resonate with your being—regardless of size, shape, color, or jeweler's quality. It's the intuitive impression which is important ~ Phyllis Galde
Apparently it is also used with people who suffer personality disorders and helps people to be goal-oriented. It also helps people to be more empathic. So if you have a hard time recognizing other people's needs, this may be the stone for you.
Tiger's Eye is also great with perception, resolving internal issues, depression, pride, and emotional imbalances. It is an all-around great healing crystal to keep in your pocket. I'm sure there are many other benefits to keeping this wonderful crystal around, too many to list!

About The Author: Moon Goddess

Moon Goddess is a third generation empathic healer and seer. She started to give healing readings to people more than 20 years ago. She has always been interested and studied all things metaphysical from a young age. Being hypersensitive she can feel and see things before they happen. Utilizing the Tarot, and with the help of her Guides, she is a source of support for many people all over the world. After he passed over, her grandfather kept his promise and came back to say goodbye and gave her the most amazing experience. Moon knows there truly is a Heaven, and it is wonderful! Sharing her experience has helped many people after they have lost someone, or anyone experiencing some form of grief. Get a reading with Moon Goddess now at PsychicAccess.com.