The Disappointed Jesus In London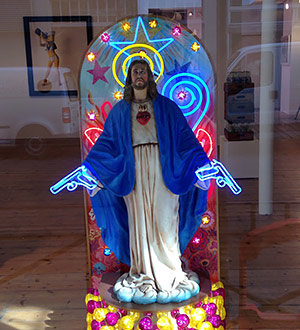 To be fair, I did not visit to the city of London solely for esoteric purposes, but I found the energy signature quite different and stark there, compared to Athens and Berlin.
I found the atmosphere in Berlin, for example, electric, yet peaceful. Stepping off the U-Bahn at Wittenberg Platz in the middle of the high season, I was engulfed by a comforting low-level hum of German families and tourists doing their Saturday afternoon window shopping. The people here did not seem to have a care in the world. The streets were crowded , much like that of London, but not once did I feel a sense of angst or claustrophobia. The warm buzz was actually quite welcoming and pleasant… and this is major coming from a highly strung empath like myself.
Berlin woke me up on a Sunday morning with the nostalgic chiming of church bells. I was staying inside one of the surviving wings of the Neues Schauspielhaus on Nollendorf Platz, in the Schöneberg district of Berlin. It was built in 1905 as a theatre and concert hall, in the then fashionable Art Nouveau style. Maybe Bertold Brecht was there in the 1920s, discussing his plays with someone in the very room I slept in that night, or maybe the bands Depeche Mode or The Human League used it as a dressing room in the 1980s. While those bells were ringing in the distance, I almost expected Christopher Isherwood's character Sally Bowles to sneak down the corridor of this old building, back from a busy, decadent night's work at the Kit Kat Club cabaret.
We need a renaissance of wonder. We need to renew, in our hearts and in our souls, the deathless dream, the eternal poetry, the perennial sense that life is miracle and magic ~ E. Merrill Root
The Tiergarten park in Berlin is breathtaking and also has amazing energy. I was very tempted to buy a sleeping bag and simply move into the park on a permanent basis! The entire park is apparently larger in size than the principality of Monaco and makes Berlin one of the greenest cities in the world. I even tried to find a four leaf clover there, but had to settle for cheating, like Liza Minnelli did in the movie Cabaret, by putting two sets of leaves together to form one!
Then I hit London. Pity I did not find that four leaf clover.
After spending so many magical moments on the Acropolis in Greece, and in the lush greenery of the Tiergarten forest in Berlin, I was now suddenly at my wit's end. Just a few days earlier I was meditating at Stonehenge, and before that I was watching people pass by peacefully at street cafe's in Schöneberg and on Potsdamer Platz. I was poorly prepared for the cut-throat hustle and bustle of the inner city streets of London. Arriving at Paddington Station in the midst of the afternoon peak hour also did not help.
Maybe my distress was due to the lingering effect of the recent energizing experience I had at Bath Spa, as well as a once in a lifetime visit to the inner circle of Stonehenge (which I will write about in my next blog post). This could very well be what set me up for such a subsequent shock to my system – the sheer contrast of it all. Or maybe I was suffering from a lack of peaceful sleep, after being woken up several times in Athens, Berlin and Wiltshire by a phantom who was compulsively sweeping and mopping the floors outside my door every night. I still do not know who she was, but for some reason she followed me around in Europe… until I arrived in London. Then she disappeared without a trace. At least London exorcised the ghostly cleaning lady who shall forever remain unknown.
Survival is for the human animal; fear the motivation. For the spiritual being survival is irrelevant. Curiosity, compassion and creativity are the name of the game; unconditional love the motivation ~ Peter Shepherd
But, I did find something spiritual in London after all!
One day, while battling my way through the streets of Soho, I spotted a psychedelic looking  piece of modern art in the display window of an art gallery appropriately called Scream. This bold and brash sculpture was the closest I personally came to any real sense of spiritual substance in the London inner city. It just goes to show: never say never. I have no idea who the artist of this bizarre piece is; I was in too much of a restless hurry to stop and ask. That is what one does in London Town. You rush and you stay alive.
London works hard, plays hard, and lives fast. During the day the city is highly stressed, materialistic and fast-paced. It has a sense of urgency and survival of the fittest. And at night the city centre becomes loud, angry and intoxicated. I saw youths beat each other up on street corners, and inebriated businessmen, with loosened ties and wrinkled Italian suits, noisily singing along to show tunes in a pub.
No wonder the Jesus statue in that window looked so disappointed. I cannot imagine myself ever living there.
Articles in this series are from Anthon's travel blog, which he wrote during his 2013 European tour. The blogs are a collection of spiritual adventures, pilgrimages to sacred places and accounts of his personal odyssey into self-realization. Other articles in this series:
Journey Born Under A Divine Star
In The Powerful Presence Of The Maiden Goddess (Athens, Greece)
A Sign From Apollo At The Delphic Oracle (Dephi, Greece)
The Shaman's Schmetterling In Gottsdorf (Berlin, Germany)
Empath Unplugged At Bath Spa (Bath, United Kingdom)
From The Inner Circle At Stonehenge (Amesbury, United Kingdom)
© 2013 Anthon St Maarten
About The Author: Anthon St Maarten

Anthon St Maarten is an international psychic medium, intuitive consultant and destiny coach. He has been consulting professionally as psychic medium since 2004 and has since established himself as a trusted advisor to many people all over the world. He is also a sought-after inspirational speaker, metaphysics teacher, radio personality, spiritual author and blogger, with a special interest in New Thought spirituality, metaphysics, parapsychology, mediumship and psychic phenomena. He is best known for his bestselling practical spirituality book Divine Living: The Essential Guide To Your True Destiny You can get a psychic reading from Anthon at PsychicAccess.com