Blue Deck Or Red Deck?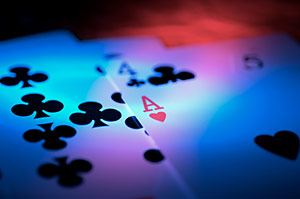 I use two playing card decks when I read: one blue and one red. Typically I let my clients choose the deck of cards they prefer me to use during a reading. My hand usually goes to the deck that my client will choose, before they even tell me.
Recently, I have been noticing that my spirit guide will have me choose another deck instead, after the client has already picked the other deck.
At these times my guide would say I need for you to pick another deck, because it is in their best interest for the future. Then I would pick up another deck and often the next chapter that will come in my client's life will surface in the reading.
Intuition is your Source whispering to you ~ Karen Whitaker
I notice also that if there is a hesitation from the client on which deck to choose, my spirit guide will tell me which deck needs to be chosen. I will sometimes even ask my client if it would be okay for me to choose the other deck, if I feel guided to.
There are some clients who prefer to have my spirit guide pick the deck for them.

About The Author: Raymond

Growing up on the streets of Columbus Ohio, Raymond learned at a very young age that he was gifted in many ways, including the ability to read someone's eyes and using a regular deck of playing cards to read the future! His mother was from a Native American family, namely the Black Foot tribe, and his father was German. Raymond discovered that both sides of his family had a psychic legacy. Over the years he has gained additional knowledge from books and by talking to trusted family members. Raymond has been doing psychic reading for others for over 3 decades, and over the years he gained many loyal clients from all walks of life. Visit Raymond for a reading at PsychicAccess.com