The Year Of The Horse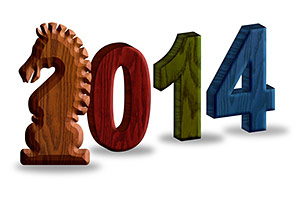 January 31 marked the Lunar New Year, the most important day in the Eastern zodiac. After a problematic 2013, many are hoping this year, which is that of the Wood Horse, will be a more promising one.
The Horse is traditionally one of the most outgoing, adventurous signs of the Eastern zodiac. Compare him to the sign of Sagittarius in the Western zodiac.
Those born in Horse years are said to be exuberant, independent, and optimistic. So what will that mean for the world this year? Be especially careful with financial matters this year. Horse can be impulsive and overly generous. You won't want to make decisions you regret later.
The essential joy of being with horses is that it brings us in contact with the rare elements of grace, beauty, spirit, and fire ~ Sharon Ralls Lemon
Also, take care not to ignore the little details. Be patient! Horse is a "big picture" sign and loves to party. It would be easy to overlook your duties to family or work when there's so much fun going on.
You may also want to travel during this year; Horse symbolizes travel and voyages.
Because the Horse symbolizes extremism, this could be a difficult year in world politics. Following the trend of recent years, the rich may get richer and the poor may get poorer. Wars, especially those fought over ideas, may intensify.
The good news is, since Horse is also a sign of exploring ideas, new compromises may be forged.
Approach the New Year with resolve to find the opportunities hidden in each new day ~ Michael Josephson
The year should be especially good for those born in Fire and Wood years. Other Fire signs (Dog and Tiger) should be cautious, for there is a good deal of those elements represented this year – and too much fire can burn. Rabbits and Goats may also have good luck during this year.
More than anything during this year of the Horse: have fun! Horse can help us get in touch with our inner child and learn to have a good time, especially if we are Water or Earth signs. Also, if you were also born in a Horse year, this year should be extremely lucky for you. Ma kuaile de yi nian! (Happy Year of the Horse!)

About The Author: Mystic Shelley

Mystic Shelley is a five-star psychic, Reiki healer, clairvoyant and empathic reader. She offers her clients honest answers about past, present and future events with the help of her trusted guides. She reads in the area of love, relationships, career, money and all matters of life. Mystic Shelley was born with talents that would later mark her as a gifted psychic, but she chose not to embrace them early on. In her 30's, a not-so-chance meeting with a celebrated psychic set her on a course that awakened her gifts. Born with the gifts of clairvoyance and empathy, her psychic mentor helped her to expand those abilities, taking her talents to the next level. With experience came proficiency and today she has a growing list of devoted clients who sing her praises. In addition, she's also actively assisted other psychics to open up to their abilities. If you are looking for direct and honest answers get a reading with Mystic Shelley now at PsychicAccess.com