Feng Shui Your Life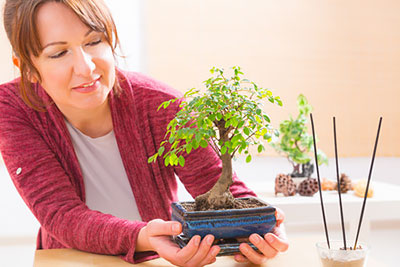 If you've been feeling stuck, depressed, or just in need of change, tap into the power of Feng Shui. This ancient Chinese art, of arranging the home for maximum energetic potential, is easier than you think to apply in your everyday life.
The best way to start is to create routines and rituals for yourself. Everything in the natural world exists according to a series of daily patterns or routines, and we are no different! Take time each day to meditate, incorporate gentle physical activity such as a walk or yoga, sit down and eat mindfully at each meal. It's also crucial to create a sacred space to escape from the stresses and sensory input of the modern world.
Are you the kind of person who finds it difficult to start things? Make a dream board filled with visual representations of your hopes, dreams, and aspirations, then place it where you can see it multiple times a day.
Every aspect of your life is anchored energetically in your living space, so clearing clutter can completely transform your entire existence ~ Karen Kingston
You may have heard of Feng Shui in tandem with a clean living space, and for good reason! Cleaning up clutter and getting rid of unused items will cleanse the negative energies that come with them. Finishing half-done tasks, such as that single burned-out light bulb in the bathroom, or that leaky faucet in the kitchen, will give a sense of completion and success, and in turn, create positive energy flow.
When you're finished cleaning and tidying, you may wish to further cleanse with herbs, such as sandalwood or sage, to invoke cleansing, healing, and new beginnings.
If you're stuck indoors, whether at home or at the office, bringing natural elements such as bonsai trees, water fountains, beautiful stones, pine cones, or other nature objects, will connect you to the earth and the elements. Use natural sunlight to illuminate your space, instead of harsh artificial light.
As for that furniture you've heard so much about? Yes, it can make an amazing difference! Arranging the objects in your home in a welcoming fashion, including favorite colors, and allowing for free movement, will allow positive energies to enter and flow through your home. If you're not sure what to change, try an old Chinese proverb, which suggests that moving 20 things will bring good fortune.
Feng shui isn't just about things; it's about people too. If you find that certain people in your life constantly bring negativity, it may be time to move on. On the flip side, everyone knows at least someone who remains positive in almost any situation. Seek those people out and learn from them.
Unclutter your life. Unclutter your home. We feel best when everything and everyone around us is in harmony and in balance.The peace and the beauty of your home will raise you up, and give energy to your goals ~ Eileen Anglin
Once you've started to incorporate the ideas of Feng Shui into your life, remember that it's an ongoing process, and it's certainly not a competition. Just as we are different as people, so too are our energies. At the end of each day, remember to reflect on reasons for gratitude, positive developments, and opportunities for change. Start meditating and journaling and observe the patterns that emerge.
Feng Shui may have no direct translation in English, but we can think of it as the constant work of spiritual and emotional house cleaning – which always turns out for the best!

About The Author: Mystic Shelley

Mystic Shelley is a Psychic Medium. She has been reading for over 15 years helping and guiding people. She uses my 8 spirit Guides during her readings. She reads in the area of love, relationships, career, money and all matters of love. She will give you only honest and direct answers. Get a reading with Mystic Shelley now at PsychicAccess.com