Published
April 16, 2019
|
By
Suzenn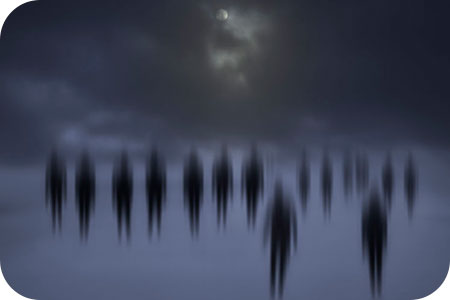 A good friend called me recently about experiences her daughter was having seeing spirits and shadow people in their house. They attempted to clear the energy by smudging the home with sage, but her daughter was still seeing these entities. My friend had remembered a story I told her about my early experiences with spirit realm and thought maybe I could help.
When I really began opening my connection to spirit I was in my 20s. Often, just as I was falling asleep, or was dozing, spirits would come and start 'talking' to me. In my experience, once one starts communicating, others will follow, as they seem to get excited about being able to connect directly with someone in the physical realm who can actually hear or see them. Needless to say, after not too long, I found this to be somewhat disruptive in my life.
One particular afternoon, as I was dozing off for a nap, a friendly spirit came to call and was telling me about her former life. But after a short time, another spirit arrived, who felt very negative and unpleasant. He seemed to be drawing on my energy and draining it. Although I did not sense him having any evil intention towards me, his negativity startled me. At this time I still had very little experience of consciously connecting to and communicating with spirit, and no real guidance from a teacher or mentor.
After a short time of his negative interference, and pushing deeper in to my energy, I said, "You need to stop right now and go away! And do not come back!" Well, he was gone in an instant and I had a nice peaceful nap for the first time in weeks.
Posted in

Afterlife, Lifestyle, Lightworkers, Mediumship, Paranormal Phenomena, Psychic Phenomena, Self-Help
|
Tagged

beings, boundaries, clearing, demons, earthbound spirit, energy frequency, energy vibration, entities, evidential mediumship, evil, ghost whisperer, ghosts, haunting, intelligent haunting, medium, mediumship, mediumship reading, negative energy, paranormal, Paranormal Phenomena, poltergeist, protection techniques, psychic clearing, psychic medium, psychic protection, psychic shielding, sage, self-empowerment, shadow people, smudging, spirit, spirit attachment, spirit communication, spirit contact, spiritism, spiritual guidance, spiritual messages, spiritual realm, trance mediumship
|
Leave a comment