Easter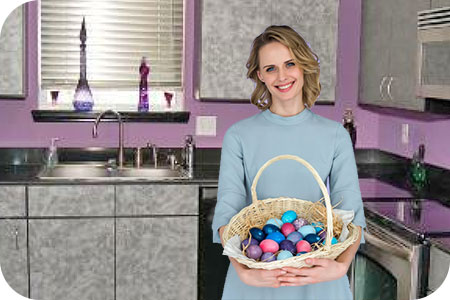 It was around Easter, one year in the early 1970s, when I had a profound angel encounter. I was playing outdoors with many other children my age. We were eagerly running through a large open field looking for Easter eggs.
Well, they were not exactly real eggs. If you are from my generation, you might remember those plastic eggs that would break open to reveal inside them candy, colorful stickers and small, cheap bracelets. Some also contained little pieces of paper with trivia or inspirational messages. I remember thinking the words on the paper were more valuable to me than the tiny Tootsie Rolls or Hershey Bars.
On this occasion, I soon had a full basket and was sitting on the ground opening up my eggs and stuffing my goodies in the plastic bag we were all given. We were to return the eggs, so they could be recycled.
There was a very angelic looking women at the Easter egg hunt. She was helping some of the children find their eggs. Whenever they seemed to be having a difficult time, she would go to them and say something encouraging, or would help to cheer them up in some way. I kept my eye on her since we arrived, as she stood out from everyone else.
Later, while standing in line to return my empty eggs, she knelt down in front of me and asked, "What did you get?" I opened my bag and showed her all the candy and goodies. Then I lifted my hand and said, "This piece of paper is my favorite." It was a golden slip of paper which read: It is wise to not put all your time, energy and love in one basket."
Posted in

Angels, Children, Life Design, Lightworkers, Paranormal Phenomena, Self-Help, Spirit Guides
|
Tagged

advice, angel, Angels, apparition, awakening, awareness, childhood, Children, consciousness, diversity, Easter, fantasy, guardian angel, guidance, holiday, imagination, Indigo children, inspiration, Life Design, life lessons, memories, mindful, psychic protection, self-care, self-empowerment, self-expression, selflessness, spirit communication, spirit contact, Spirit Guides, spiritual guidance, spiritual insight, spiritual messages, tribe, visitations, wisdom
|
Leave a comment