The Easter Angel And The Golden Ticket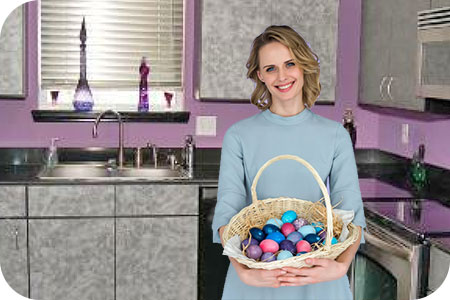 It was around Easter, one year in the early 1970s, when I had a profound angel encounter. I was playing outdoors with many other children my age. We were eagerly running through a large open field looking for Easter eggs.
Well, they were not exactly real eggs. If you are from my generation, you might remember those plastic eggs that would break open to reveal inside them candy, colorful stickers and small, cheap bracelets. Some also contained little pieces of paper with trivia or inspirational messages. I remember thinking the words on the paper were more valuable to me than the tiny Tootsie Rolls or Hershey Bars.
On this occasion, I soon had a full basket and was sitting on the ground opening up my eggs and stuffing my goodies in the plastic bag we were all given. We were to return the eggs, so they could be recycled.
There was a very angelic looking women at the Easter egg hunt. She was helping some of the children find their eggs. Whenever they seemed to be having a difficult time, she would go to them and say something encouraging, or would help to cheer them up in some way. I kept my eye on her since we arrived, as she stood out from everyone else.
Later, while standing in line to return my empty eggs, she knelt down in front of me and asked, "What did you get?" I opened my bag and showed her all the candy and goodies. Then I lifted my hand and said, "This piece of paper is my favorite." It was a golden slip of paper which read: It is wise to not put all your time, energy and love in one basket."
I think one of the things that saved me is that I never put all my eggs in one basket ~ Ricky Schroder
She smiled at me. She said that was very wise advise. "Always remember that dear," she said. I told her I would. She then whispered in my ear that I had a gift and that it should be shared with the world. I was surprised and gave her a puzzled look. But she just looked at me with her piercing blue eyes and smiled. Then she turned around and walked back to the end of the field. And then she disappeared.
I still have that little golden ticket of wisdom and I keep it safely in my jewelry box. I took the Easter angel's advice and have never put 'all my eggs in one basket.' Not my time, energy, or love. I spread it all over and am mindful to only share my time, energy and love with those I resonate with, and who are kindred spirits. To each her own.

About The Author: Moon Goddess

Moon Goddess is a third generation empathic healer and seer. She started to give healing readings to people more than 20 years ago. She has always been interested and studied all things metaphysical from a young age. Being hypersensitive she can feel and see things before they happen. Utilizing the Tarot, and with the help of her Guides, she is a source of support for many people all over the world. After he passed over, her grandfather kept his promise and came back to say goodbye and gave her the most amazing experience. Moon knows there truly is a Heaven, and it is wonderful! Sharing her experience has helped many people after they have lost someone, or anyone experiencing some form of grief. Get a reading with Moon Goddess now at PsychicAccess.com.


This site uses Akismet to reduce spam. Learn how your comment data is processed.