Published
March 5, 2021
|
By
Asherah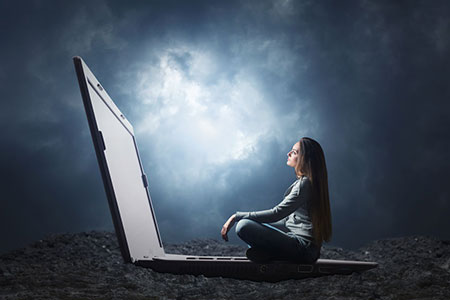 A few nights ago I could not sleep. When I go full speed into doing readings I hold nothing back, and very often long after I am done reading for the day, Spirit often has other plans.
So it was on this night in particular, as it had been for the past several days. I tried in vain to go to sleep and I was bone-tired, but it was not to be. I drank hot milk. I took a bath, followed by a nice cool shower to bring my body into balance. I went outside, to see if I could fall asleep under the starry night. Nothing worked. No matter how much I may have wanted to fall asleep, I was wide awake!
I pondered the computer, and whether or not to log on for readings at PsychicAccess.com. I decided against it, because I was concerned that as tired as I was I may not be at my best. So, I decided instead to browse a popular social networking site and see what was going on… if anything. Maybe an old friend might be online for me to chat with. Maybe I could just browse. Anything to divert my mind from the 100 mile an hour warped speed it seemed to be on!
I was not online for ten minutes, when I received a message from a woman I did not know. She wrote, "You had recently posted on a mutual friend's page. I am so sorry, I would normally never do this, but I sensed that you have a message for me. Your name just leaped out at me from the page and I just had to contact you."
I had no idea what she was talking about, and even less of an idea who she was. But then, all of a sudden, the floodgates opened and my hands starting typing, almost faster than I could keep up. Someone desperately wanted to communicate with this woman through me.
The more I typed, and the more I made statements that I had no idea what I was referring to, the more this woman became emotional. Our conversation lasted maybe 20 minutes, with me telling her various things and asking questions about things that I had no clue about, nor the people involved. I didn't know what all this information was, or where it came from.
Posted in

Afterlife, Intuition, Mediumship, Paranormal Phenomena, Psychic Phenomena, Psychic Readings, Technology
|
Tagged

channelling, clairvoyant medium website, communication, crossing over, death, emotions, evidential mediumship, ghost whisperer, grief, Intuition, loss, medium, mediumship, mediumship reading, mental mediumship, miracles, motherhood, psychic experiences, psychic medium, psychic reading, Psychic Readings, reading, sleep, spirit, spirit communication, spirit contact, spirit messages, spiritism, spiritual counseling, spiritual healing, spiritual messages, spiritualism, synchronicity, Technology, The Other Side
|
Leave a comment