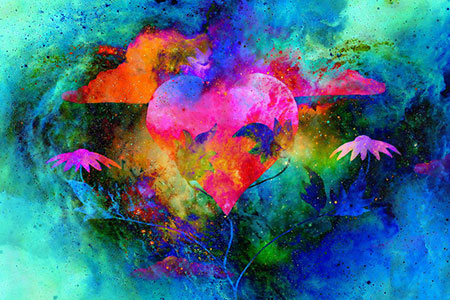 Love has a life of its own. In its true, pure form and spiritual essence, love is a transcendent energy emanating from God – the supreme loving and lovable Source. When love descends from this uppermost divine realm of origin and takes seed in our heart, we can know it is an act, and element of grace that we receive.
When the seed of love is planted in our heart, it is to be watered, nurtured, cultivated, and protected with our life and soul. Love needs space to grow, and nourishment to flourish. It is the quality of consciousness that creates this space and atmosphere for love to thrive.
When tending to the garden of the heart, we must first examine and prepare the foundation. Just as flowering plants would struggle to grow in dry soil, so too will love not readily emerge from a hardened heart. It requires softness, flexibility and receptivity. Love, likewise, needs a base that is rich in qualities to give. Soil stripped of nutrients does not foster growth, nor does a heart that is deplete of a generous, giving spirit.
Furthermore, there are weeds of unwanted things that must be removed to allow for love to expand. Lust, anger, greed, selfishness has no place in the garden of love. Love in its genuine spiritual essence will not take root in an atmosphere surrounded by manipulation, anger, resentment or narcissism.
Again, love has a life of its own. It cannot be pushed or pulled, or 'gamed' into being. To truly experience its pure divine scent and flavor, the heart must be open, soft, receptive, giving, honest, respectful, and devoted to the supreme, eternal, transcendent, loving Source.