Creating Space For Divine Love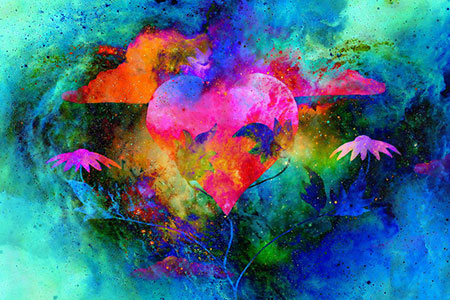 Love has a life of its own. In its true, pure form and spiritual essence, love is a transcendent energy emanating from God – the supreme loving and lovable Source. When love descends from this uppermost divine realm of origin and takes seed in our heart, we can know it is an act, and element of grace that we receive.
When the seed of love is planted in our heart, it is to be watered, nurtured, cultivated, and protected with our life and soul. Love needs space to grow, and nourishment to flourish. It is the quality of consciousness that creates this space and atmosphere for love to thrive.
When tending to the garden of the heart, we must first examine and prepare the foundation. Just as flowering plants would struggle to grow in dry soil, so too will love not readily emerge from a hardened heart. It requires softness, flexibility and receptivity. Love, likewise, needs a base that is rich in qualities to give. Soil stripped of nutrients does not foster growth, nor does a heart that is deplete of a generous, giving spirit.
Furthermore, there are weeds of unwanted things that must be removed to allow for love to expand. Lust, anger, greed, selfishness has no place in the garden of love. Love in its genuine spiritual essence will not take root in an atmosphere surrounded by manipulation, anger, resentment or narcissism.
Again, love has a life of its own. It cannot be pushed or pulled, or 'gamed' into being. To truly experience its pure divine scent and flavor, the heart must be open, soft, receptive, giving, honest, respectful, and devoted to the supreme, eternal, transcendent, loving Source.
Ordinary love is selfish, darkly rooted in desires and satisfactions. Divine love is without condition, without boundary, without change. The flux of the human heart is gone forever at the transfixing touch of pure love ~ Sri Yukteswar Giri
Attracting a relationship is not inherently the same as creating space for love. Both the secular mainstream and metaphysical circles are inundated with popular notions and trendy advice regarding relationships. There are so-called dating rules, do's and don'ts, the Law of Attraction, energy strategies, and so on. While these may yield some superficial results, they do not create an authentic atmosphere of true love.
Again, love in its true spiritual form has a life of its own, emanating from the highest loving being as its divine Source. It is bestowed by grace and received in a soft, service-minded heart. It is watered, nurtured, cultivated, and protected by respecting it with gratitude and a spirit of service.
Love is the echo of God's voice trying to reverberate through mute stones, through rain, wind, fragrance, vitalizing light and plumed songbirds; it reverberates through the cries and laughter of babies, through unconditioned mother love, and through dumb and articulate hearts ~ Paramahansa Yogananda
The heart and soul in which love lives and blossoms does not seek to serve and gratify itself. It just loves, without expectation or agenda for return. And when it does, the most amazing thing happens – it becomes filled and fulfilled with the true joys of love!
Love comes to the one who loves. It comes by reciprocation from the supreme emanating Source of all love, and from the divine energy of love itself. There is no need to separately seek it, much less try to control, manipulate, or secure it from another. Simply be loving and bring that love into your relationships, without worrying about 'what's in it for you.' Then you will create space for real, meaningful love, and experience it wholeheartedly.

About The Author: Lotus Grace

Grace is the epitome of her name, having endured a troubling childhood that paved the way for an adult, gentle, energetic grace that she now delivers to others through the gifts of movement, dance, and through her many intuitive gifts that she shares with her clients. For 30 years, this Hudson Valley, NY State resident has cultivated a unique way of helping others, drawing upon God as her best friend, advisor, and the all-encompassing force that is the bedrock of her faith. Her journey has led her to heal and grow through the mud of life and compassionately support others to do the same. She's immersed in the world's diverse faiths with a core that is deeply rooted in more than three decades of immersion in the spiritual practices and wisdom of devotional lineages. Her inner relationship with God/Spirit has deepened the intuitive sights, sounds, scents, and senses that unfold profoundly when she dances. Since 2004, Grace has run a spiritual healing arts and dance sanctuary, where she intuitively nurtures children, teens, and adults. In her client readings, she taps into her Empathic, Clairvoyant, Clairaudient, Intuitive healing to help clients access the divine guidance they need. If you're searching for a little added Grace, spiritual energy, and the answers you need, you can find Grace at PsychicAccess.com.