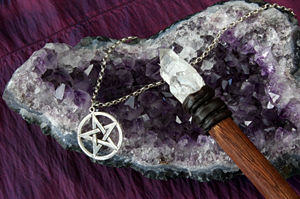 It is said that "the wand chooses its master" and this is the story of how my wand came to be with me.
Several years ago I worked as a full-time reader at an area psychic store. I loved my job and my clients. The location was perfect and I looked forward to going to work every day. One special day, however, was the start of my journey towards receiving my magic wand.
It started as a normal day with clients coming in to see me, psychic readings to do, and books to marvel at and glance through.  I'd had lunch and was sitting in my room preparing for the afternoon's arrivals, when I heard the jingle of the front door.
I knew, somehow, that the jingle was meant for me, although I wasn't expecting anyone for at least another hour. So, I got up and walked towards the front of the store and there was a short, and forgive me for saying it, rather unattractive and ordinary looking man standing there looking at me. He appeared ordinary until you looked into his eyes. They contained wisdom – and something more. I eventually learned that the 'something more' was a certain disdain for the human race, but that's another story. Continue reading →