What Is Ascension?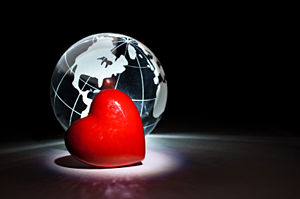 It is heart-centered soul level. Humans seem to be in a clothes dryer, tumbling around and hitting the sides of the dryer. To move into ascension, move out of the dryer and into the tree of life – the roots of Mother Earth.
Currently, most people on our planet are living in the dense third dimension. A goal with regard to ascension would be to move out of this difficult dimension into the fourth and fifth dimension. Actually, it is not uncommon for healers and lightworkers to be living in the consciousness of the sixth through ninth dimensions. There is greater clarity in higher dimensions, among other significant benefits. One of the most important to me, personally, is the freedom of beingness – experiencing my own 'is-ness'.
According to the Akashic Records genes were removed from our bodies thousands of years ago. Finally, they are now being replaced back into our bodies. Purifications are going on now. This is what much of 'the shift' is about that you may be experiencing energetically. Yes, the one the ancient indigenous cultures predicted!
Love is a force that connects us to every strand of the universe, an unconditional state that characterizes human nature, a form of knowledge that is always there for us if only we can open ourselves to it ~ Emily H. Sell
For example, Hurricane Sandy occurred on October 29th, 2012 which was exactly 83 years after the great stock market crash, to the day. Human souls are becoming more self-reliant and moving into alignment with the divine. Law, for example, is moving into divine law. Medicine is moving into divine medicine. Education is moving into divine education, and this applies to every field of human endeavor. In other words, we're moving into heart-centered life. This is what we're raising our vibrational frequencies into being.
Another example is marriage. Marriage was created 26,000 years ago with disharmonious energies. I'm sure this comes as no surprise since the divorce rate in the U.S. is at approximately fifty percent, despite our very best intentions as individuals in our culture. That said, the good news is that marriage is moving into divine union, no judgment, divine sexuality – all of the blessings that come along with moving into higher dimensional realms in a relationship.
What is at the end of the process? Ascension to a heart-centered soul level, which means creating your life the way you want it to be in consciousness. Living a divine life isn't magical thinking. You can live your life super-sized. I call this Quantum Healing.

About The Author: Mountain Sage

For thirty-six years, Mountain Sage has been providing her much sought after insight, coaching and spiritual counseling to clients locally, as well as internationally. Many other psychics, spiritual counselors and healers, professionals, celebrities, and individuals of all backgrounds, have relied on her gifts to find their way through muddled times. Mountain Sage is the student of an exalted Gurugi in Bombay, and Shaman of the Fireheart Sweat Lodge in Santa Fe, New Mexico. Her extensive training includes Oracle, Healing, Universal Laws & Principles, the Sacred Circle and Psychic Shielding. She specializes in Ascended Masters, Altars, and Minerals. She holds the great honor of Oracle Carrier by her tribe due to her outstanding psychic ability, passion for the psychic realm, integrity and sacred work. She blends mystical understanding with practical application, and her art is connecting with the Divine. Get a psychic reading with Mountain Sage at PsychicAccess.com.