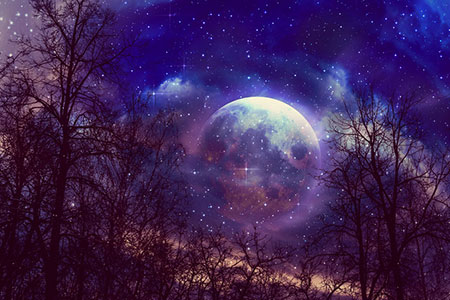 Recently, on June 5th, I was relaxing, waiting for the sun to set, because a penumbral lunar eclipse was due to occur that evening. The Strawberry Full Moon was set to turn a shade darker during its maximum phase. Photographers around the world were preparing to capture images of this special event. The moon would have an unusual light in a way we do not see very often.
Many people had been texting and posting about the shift of energy that will happen with this special Full Moon. I was not taking it too seriously, but I did have my new camera handy, in the hope of capturing some cool images of my own. But I surprised at what happened!
I waited in the dark for the perfect moment to take some pictures, having made sure that the lens was clean and there were no other lights to cause flares or reflections. But when I looked at the result, not only did I see the moon, but there were also a small blue orb and a white orb of light captured in the image.
I was quite amazed. No, I thought, how is that possible? I took some more photos, and there it was again: the small white and blue orbs! This was my first time I have ever captured orbs in my photography. I was still considering the possibility that it was just a glitch caused by the moonlight, when I noticed something even more unusual in the picture. I could clearly see the outline of a ghostly figure. It is kind of like hitting the paranormal jackpot…when you capture the moon, two orbs, and a spirit entity all in one photo, and that during a significant lunar eclipse! It does not get more spooky than that.