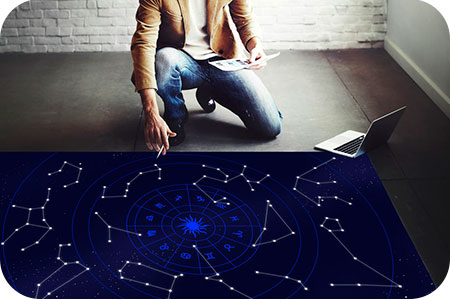 Astrology is a great tool for identifying your ideal career and the kind of employment that will fulfill your longing for soulful, meaningful work. Here are a few guidelines for the different signs of the zodiac and the careers they are typically drawn to, and may thrive in.
Fire Signs
Aries, Leo, Sagittarius
Energetic, impatient and independent Fire signs tend to crave adventure and love a challenge.
Aries is enthusiastic and outspoken as natural-born leaders. They prefer jobs that involve a certain amount of risk or challenge, such as fire fighting, law enforcement, competitive sports or the military. Any career that recognizes initiative, ambition and the ability to overcome many obstacles is ideal for them.
Leo loves being in the limelight and being in charge. They're often drawn to careers that will bring them the respect and appreciation they desire. Of course, acting and any career in the entertainment field would be a perfect fit. But any profession that allows them to be the center of attention is a natural for them.
Sagittarius loves to be engaged with life and enjoy talking, writing, teaching and traveling. They're well-suited to careers in education, publishing, law and the travel industry. Always energetic, Sagittarians prefer being outdoors and can't stand any sort of job that keeps them stuck behind a desk.