Archive for February, 2013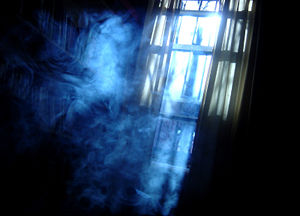 Last week I saw something I never thought I would, even after years of living in a haunted house. I bought a brand new house in 1992 for this every reason – no more hauntings, apparitions and paranormal activity! I really never thought that my new house will become haunted too.
On February 9th, 2013, I was in the living room talking to my wife and I noticed that my three year old puppy, Peppermint, was standing in the kitchen looking up at the ceiling and wagging her tail. It seemed as if she was looking at something, or someone. I joked with my wife and said, "Look, Peppermint is looking at ghosts!" Peppermint was walking slowly, the way she usually does when she is approaching a person for the first time. Then suddenly she backed off really quick, but she did not bark. She was intrigued and cautious, but certainly not frightened. The scene reminded me of something I saw on a paranormal investigation TV show recently, so I followed my intuition and went to my computer room to grab my digital camera and my digital recorder. Read the rest of this entry »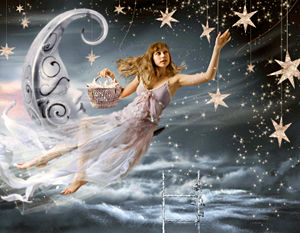 There are times when our dream life seems to be super active, and yet at other times not so much. I've found there to be a direct correlation between how much a person 'participates' in their own life and how active their dreams can be. In other words, we must make our own dreams happen in this life!
There are dreams that foretell the future, and you are really lucky if you have these types of dreams. If you trust your intuition they can be especially powerful, because you can use the knowledge shown to you in such dreams to your advantage, or at least for your protection.  These dreams sometimes also give the dreamer a time frame for when something is supposed to happen. Then there are dreams that are more symbolic. These dreams represent something happening in our lives, or the lives of someone close to us. They too can give you direction, but more about how to handle what is going on, or if you are moving in the right direction. Read the rest of this entry »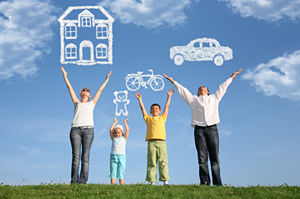 There is a very dramatic difference between wishing for what we need and want out of life, and expecting to get those things. It is like the difference between talking or writing about how wet water is and actually getting into the water to experience how wet it is. The Zen saying goes, "You cannot get wet from the word water" which I discovered when reading the philosophy of Alan Watts and David Suzuki.
A wish is simply a desire for things and events we hope will come true. An expectation is the power of knowing that things will come to pass.
Most of the readings that psychics give to callers and chat room visitors are centered around the wishes that people have to find out what will come, or if a person will receive what they need and want to have happen.  So, I have had years of practical personal and professional experience in coming to my conclusion. Read the rest of this entry »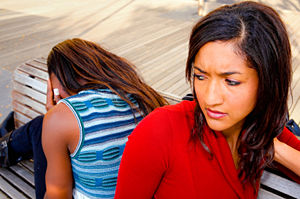 I had a client this morning who asked me a question that I have never been asked before. After my time with her, I thought about her question and asked myself the same question with reference to my own life.
Her question was pretty simple: Who can I confide in? Who can I trust? I took a look at certain people in her life and shared what I felt. I immediately felt that two specific people were not the kind of folks you would want to trust and confide in.
But I like to make sure everything is in agreement before I reveal this kind of information. So, I also asked her for her birth date, along with the dates for a few of the people she wasn't quite so sure about. Sure enough, it confirmed what I saw initially. Read the rest of this entry »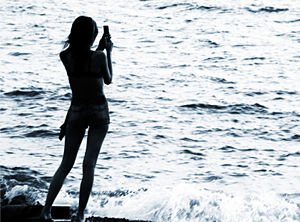 At the end of each call, after each  connection or contact with my client, there is often this point where I can see in the cards what she is thinking about as we disconnect. It sometimes happens when we have communication problems, like a low battery, or a dropped connection.
I feel like there are so many disconnected communications due to the number of people I have been able to help, and many of the stories go unfinished. Many of us phone readers do wonder: What happened to you? Are you okay now? Were we correct? Were we helpful?
I have not only counseled my clients, but I have garnered their ideas and fielded their questions. There are billions of unfinished sentences. Brilliant minds and souls burn only to lose their ideas to the mass consciousness of our ether – the net – the moods of others we now call our own. Read the rest of this entry »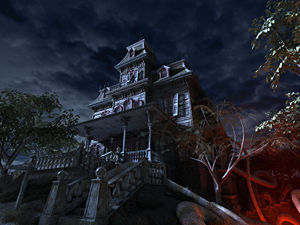 For some time my wife and I had been looking for a new home. Being psychic has always been helpful when one goes house hunting. Growing up in haunted home, I am always very cautious about the properties we consider. Experience has taught me that it is not always the house itself that is haunted – it can also be the land that the house is built on.
Currently we live in the countryside. Yes, we do have one traffic light, and yes, we do have a chicken stand. We wanted to look for something that would offer us a brand new beginning. We have gone through many realtors, of whom none had the patience  for us to find the right house.
My wife eventually found a lady named Alice, from another town. When we met her, we told her we wanted a good size house with some land and an outbuilding to run a small business. I told Alice that I did psychic readings and when I walk into a house I could pick up on any spiritual energy that may be present. Our new realtor thought it cool that I had psychic gifts, and I told her it does help when looking for a house. Read the rest of this entry »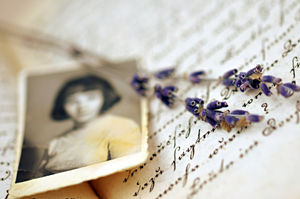 This is a letter to my daughter – if I had one, that is. But I don't. So, this letter is to her, the daughter I might have had, and also to those young ladies I have known over the years who I have felt were like daughters to me.
My daughter's name would have been Chantal-Marie, should she have been born. I suppose I could have had her, but life took its course and time slipped away. I was too busy mothering myself, I think, and I couldn't have mothered her, in retrospect. But hindsight isn't always 20:20 – don't let anyone fool you.
So here goes. Strangely enough, I feel as though I were on the edge of a precipice as I write this. It is a most unexpected feeling. Read the rest of this entry »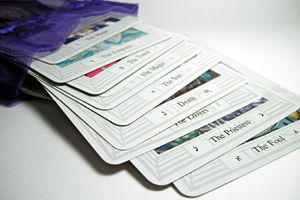 As a visual artist I have always been fascinated by the imagery on traditional Tarot cards. My first Rider-Waite Tarot deck felt so solid – 78 cards in a one-inch stack. They were thin, but sturdy and smooth so it was easy to shuffle them. Over time a Tarot deck picks up energy and can grow in thickness to two inches or more.
The Tarot consists of the Major Arcana and Minor Arcana. The word "arcana" means secrets and mysteries, and every aspect of the human condition is symbolically embedded in the cards.
The earliest appearance of the cards arguably occurred in the 14th Century as playing cards. The symbolism had to be kept secret, because doctrines outside of church law were prohibited.
From the first time I used them my intuition immediately pinged on different energies when I looked at each one of the cards: optimism, excitement, balance. It was a spontaneous, deep spiritual energy coming from my core to consciousness. I used this method of relating to the cards long before I bought any guidebooks. Read the rest of this entry »