Orbs And Apparitions In My New House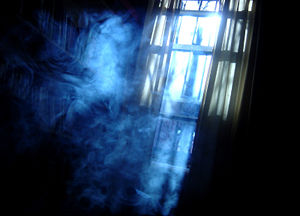 Last week I saw something I never thought I would, even after years of living in a haunted house. I bought a brand new house in 1992 for this every reason – no more hauntings, apparitions and paranormal activity! I really never thought that my new house will become haunted too.
On February 9th, 2013, I was in the living room talking to my wife and I noticed that my three year old puppy, Peppermint, was standing in the kitchen looking up at the ceiling and wagging her tail. It seemed as if she was looking at something, or someone. I joked with my wife and said, "Look, Peppermint is looking at ghosts!" Peppermint was walking slowly, the way she usually does when she is approaching a person for the first time. Then suddenly she backed off really quick, but she did not bark. She was intrigued and cautious, but certainly not frightened. The scene reminded me of something I saw on a paranormal investigation TV show recently, so I followed my intuition and went to my computer room to grab my digital camera and my digital recorder.
I think that it is very good for people to talk about their paranormal experiences and share stories about things that they cannot explain ~ Rosemary Ellen Guiley
I started taking pictures in the kitchen. My wife went into the kitchen to make dinner, and the dog followed her. Peppermint kept looking up at the ceiling and I took more pictures, pointing the camera upwards. Every time the dog would look at the ceiling I felt there was something in the room that we cannot see.
After downloading the pictures to the computer I was surprised to see orbs everywhere in every shot. In the pantry door there is a strange light. Some orbs around the kitchen look like they are giving a 'piggy back ride' to the others. They are following each other in what seems to be the shape of a rainbow. Then I found what looks like a ghost in some of the anomalous pictures. This figure is in the area where the dog was standing when she was looking up as if she was greeting someone.
The following day I sensed a strong smell of perfume floating by me, so I grabbed the camera again and took more pictures. This time it was not in the kitchen, but around the dark blue curtains in the parlor. In the many pictures I took I later noticed a silhouette or a shadow figure. In some of the images the figure has a bright orb above it, with the curtains looking like a dress, or the shape of a dress.
Everyone is psychic to some degree, and really successful paranormal investigators even if they do not realize it are using their own psychic ability to sense the environment ~ Rosemary Ellen Guiley
As I have described in some of my previous blogs, there have been many strange and unexplained things happening in my house lately. Now everything was starting to make sense to me: why my mom's silverware was missing, and how everything was rearranged on my desk for some reason
I feel the presence of my parents at my new house. Since this  has been happening I had contacted other family members, but they have not notices anything. I am hoping that soon I will be able to capture an EVP audio recording and see if I can possibly get a simple "hello" or "yes, this is mom". We need to step back and listen what the dead is trying to tell us to get a better understanding.

About The Author: Raymond

Growing up on the streets of Columbus Ohio, Raymond learned at a very young age that he was gifted in many ways, including the ability to read someone's eyes and using a regular deck of playing cards to read the future! His mother was from a Native American family, namely the Black Foot tribe, and his father was German. Raymond discovered that both sides of his family had a psychic legacy. Over the years he has gained additional knowledge from books and by talking to trusted family members. Raymond has been doing psychic reading for others for over 3 decades, and over the years he gained many loyal clients from all walks of life. Visit Raymond for a reading at PsychicAccess.com