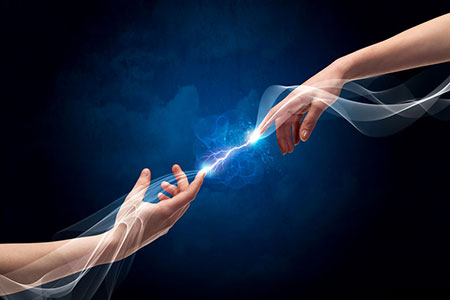 The extra-sensory, paranormal ability of clairempathy or 'psychic empathy' is not yet recognized in mainstream science, but that does not make it any less bona fide for the highly sensitive people who experience these empathic psychic phenomena as a daily reality. Despite the lack of academic interest, and contrary to widespread skepticism, there is a growing body of anecdotal evidence and a significant collection of scientific data steadily gaining momentum to offer intriguing clues to the psycho-physiological experiences of empaths, intuitives, sensitives and psychics all over the world.
I am a clairempath. I feel what other people feel. I experience inexplicable extra-sensory perceptions of other people's emotions, mood states, subconscious motivations, and even their physical or medical symptoms. It happens without me having to see them, or knowing anything about them. Touching others, or being in close proximity to them, elicits more intense empathic perceptions, but it is not necessary for me to have direct contact or personal interaction with others in order to have a direct experience of their underlying feelings and intentions.
Empathic psychic ability or clairempathy is a clairsentient psychic ability. Clairsentience refers to the 'clear' sensing or feeling of extra-sensory information. In my experience this process of sensing is due to some form of energy transfer between me and other people. There is an energy interaction or energy exchange that takes place between me and them. I experience these vivid psychic or paranormal impressions of other's energy on a daily basis, and I utilize it to the best of my ability in my work as a professional psychic medium, consulting with clients all over the world.
The term 'sentience' refers to awareness, or consciousness of a sensation or a feeling. Sentience does not involve thought, or logic, or reason. It involves spontaneous feeling or sensing, instead of rational thinking or deduction. Clairempathy therefore is an energy perception, or sentient response, that has no rational or logical origin. It is a form of perception which is experienced as a tactile, physical sensation… or an emotional feeling. My clairsentient or clairempathic experiences are uncanny and very real, as many of my friends, family and clients will attest.