dragons
Published
December 19, 2020
|
By
Kim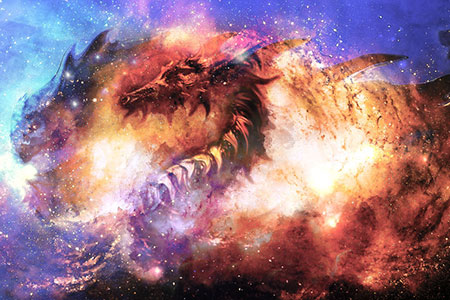 Did you know you have dragon guides? Yes, we all do! Perhaps you have even more than one. Thousands of years ago dragons did exist in our world, even though today we see them as 'fantasy' creatures. Within every myth, legend and fairytale, there's always some truth.
Just like everything else that we have ignorantly failed to understand throughout the course of human history, we were fearful and afraid of dragons. So, we took a 'defensive' approach by destroying them, instead of living in peace with them.
Dragons are highly intelligent creatures, much like the dolphins of today. They are also highly intuitive, and if we had chosen to work with them in the correct way while they were still here in our world, they could have been greatly beneficial to our lives. Instead, we extinguished them out of fear.
They came from another dimension to be with us on the Earth plane – most likely from the 5th dimension or beyond. By 'dimension' I mean a more intelligent and civilized plane of existence, where all creatures are more aware and considerate of the other beings around them.
I believe the dragons came here thousands of years ago to help us evolve and teach us to be more respectful of nature. But, after centuries of trying to co-exist with our violent, destructive species, they gave up and went back home to their higher dimension realm.
But you see, because they are so smart, they found another way to continue communicating with those of us who are open and willing to learn from them and today we can telepathically connect with them. Dragons are guides that come to us as spirit animals throughout our lives, depending upon what we are going through at that moment in time.
Posted in

Life Design, Metaphysics, Psychic Readings, Spirit Guides
|
Tagged

animal, animal communication, animal medicine, animals, beings, colors, dimensions, dragons, emotional intelligence, entities, Gaia, guidance, higher consciousness, highest good, intuitive, Metaphysics, nature, planes, planet earth, power animal, psychic reading, realms, shapeshifter, spirit animal, spirit communication, spirit contact, Spirit Guides, spirit messages, Spirituality, supernatural, telepathy
|
Leave a comment