augury
Published
October 30, 2019
|
By
Cheanne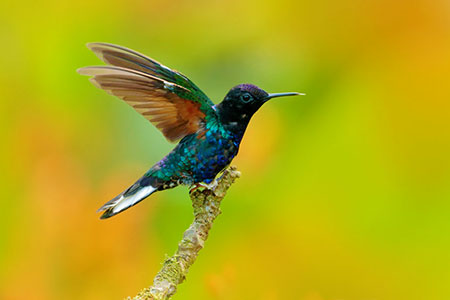 Mother Nature is a wonderful place to retreat to when we are seeking clarity, inner peace and a return to balance. This is especially true when we have the opportunity to watch animals in the wild. Each animal, bird, insect and living creature affords us a special magic or spiritual wisdom, which it carries to remind us of a part of our own spiritual being.
Birds in particular carry wisdom from a higher perspective. One such bird is the mystical hummingbird. The energy of the hummingbird first emerged in my artwork in 2016, when he appeared in a painting I titled Grace. When hummingbird first appeared in my artwork, he came as a sign or symbol of hope and joy. He appeared on the path of the angel in this artwork, and he has since appeared in numerous of my sketches and paintings.
Hummingbird may be tiny, but he is mighty in so many ways. His medicine or spiritual symbolism reminds us of our true spiritual nature and our ability to experience personal transformation, by transcending our burdens and finding freedom in expressing who we are as individuals.
Posted in

Angels, Divination, Life Design, Lifestyle, Metaphysics, Psychic Phenomena, Shamanism, Spirit Guides, Spirituality
|
Tagged

alignment, animal medicine, animals, art, augury, awareness, birds, centering, freedom, fulfillment, Gaia, grounding, higher consciousness, hope, joy, Life Design, mental clarity, mystical, nature, power animal, psychic awareness, self-realization, self-reflection, shamanism, signals, signs, Spirit Guides, spiritual awareness, spiritual guidance, spiritual insight, spiritual messages, Spirituality, supernatural, symbolism, time, totem, wisdom
|
Leave a comment