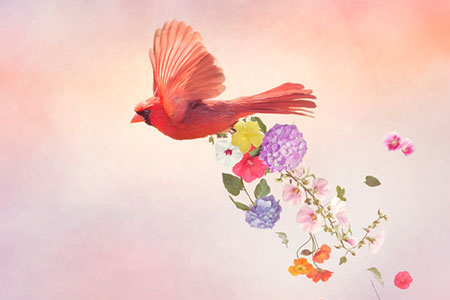 If you live in North America, you're probably familiar with the northern cardinal bird, also known as the redbird or red cardinal, commonly found across the continent. These bright red songbirds traditionally feature in the folklore, legends, and spiritual beliefs of various cultures.
The blood red coloring of this little bird's plumage fascinated our ancestors and it is considered to be symbolic of life and vitality. Interestingly, in the Christian tradition the blood of Christ is a central religious symbol and the red-robed senior clergy of the Catholic Church are also knows as Cardinals.
In indigenous cultures, the cardinal traditionally also represents ongoing life, as well as a strong, lasting relationship because cardinals are a monogamous bird species. The appearance of a red cardinal in your life may indicate a need to start something new or examine existing loyalties and obligations.
Their red feathers certainly stand out amid the more common brown and green found in most of nature. The female cardinal is a lighter shade of pink than the bright red male, which is less easy to see. When you do notice her on your path, she is reminding you to look closer – chances are positive developments are on the horizon.
In native lore they are also associated with the direction of true North, symbolizing the guiding, unchanging Spirit. Folk tradition tells us that to see a cardinal means a departed loved one's spirit is near, or an angelic guide is trying to send an important message.
Cardinals are also associated with the number 12, representing the annual cycle of months, as red cardinals are a year-round species. In addition, red is the color of the root (first) chakra in Eastern wisdom tradition, and also the Astrological sign of Aries, first in the Zodiac.
Posted in

Afterlife, Divination, Intuition, Life Design, Lifestyle, Self-Help, Shamanism, Spirit Guides, Spirituality
|
Tagged

Afterlife, ancestors, animal, animal medicine, animals, augury, beliefs, birds, boundaries, bravery, Christianity, church, colors, courage, culture, energy shielding, inner strength, invocation, Jesus Christ, loyalty, Native American, persistence, power, power animal, psychic shielding, religion, self-belief, self-empowerment, signals, signs, soul, spirit animal, spirit communication, spirit contact, spirit guardians, spirit guidance, Spirit Guides, spirit messages, spiritual guidance, spiritual messages, spiritual traditions, spiritual wisdom, Spirituality, symbolism, synchronicity, totem, traditions
|
Leave a comment