Spiritual Symbolism Of The Hummingbird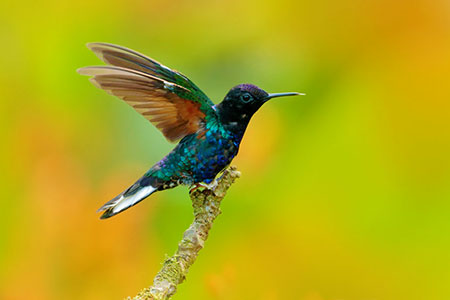 Mother Nature is a wonderful place to retreat to when we are seeking clarity, inner peace and a return to balance. This is especially true when we have the opportunity to watch animals in the wild. Each animal, bird, insect and living creature affords us a special magic or spiritual wisdom, which it carries to remind us of a part of our own spiritual being.
Birds in particular carry wisdom from a higher perspective. One such bird is the mystical hummingbird. The energy of the hummingbird first emerged in my artwork in 2016, when he appeared in a painting I titled Grace. When hummingbird first appeared in my artwork, he came as a sign or symbol of hope and joy. He appeared on the path of the angel in this artwork, and he has since appeared in numerous of my sketches and paintings.
Hummingbird may be tiny, but he is mighty in so many ways. His medicine or spiritual symbolism reminds us of our true spiritual nature and our ability to experience personal transformation, by transcending our burdens and finding freedom in expressing who we are as individuals.
Like the hummingbird sipping nectar from every flower, I fly joyfully through my days, seeing beauty in everything ~ Amethyst Wyldfyre
Just as the hummingbird suspends himself in flight, to reach for the nectar of the flower, when we hold true to our own values, our experiences are in alignment with the desires of our own hearts. We are then open to experience the sweet nectar of life. The nectar of life is contentment, inner peace, being valued, and the ability to find fulfillment. It is the feeling of joy!
Some of the key messages of the hummingbird that came into my awareness during the painting process are as follows:
Finding Joy — The hummingbird represents joy and hope on our path ahead and he encourages us to reach out for this joy, with one hand on our heart guiding the way. This helps us to stay true to our own visions and inspirations by honoring the calling of our own intuition.
Bending Time — hummingbird showed me our ability to bend time. This is the feeling of flow that we experience when we are intently present with the task at hand, and focused in the now. Our mind chatter is usually quiet during these times. Things flow effortlessly and possible blocks seem to clear. Time literally seems to 'bend' so that we achieve things that would normally seem improbable.
Seeing Clearly — In order to find what we are truly seeking, sometimes our vision needs to blur, so that we can loose sight of current mindsets and expectations, in order to eventually see with greater clarity, allowing for a higher vision to enter our awareness. This is particularly important in our personal relationships with our partners and loved ones.
Achieving Freedom — In one of my pieces hummingbird wanted his wings and tail to extend beyond the canvas. When I asked why, he said it was symbolic of his energy not being contained, or boxed in. I have since read that hummingbirds don't thrive in captivity and need to always fly free. Our souls crave the same freedom.
Becoming Centered — As his wings move, hummingbird's body always remains perfectly stationary at the core of who he is. If we are not grounded and centered, we can call on the energy of the hummingbird to help us with focus and concentration, as we go about our day.
And from hummingbird to eagle, the daily existence of every bird is a remote and bewitching mystery ~ Thomas Wentworth Higginson
Hummingbird is light in flight, acrobatic, fast, adaptable and he carries a special message for each of us. For each person his presence represents something special and unique. Aim go be more aware of such signs from spirit. Whenever you see the hummingbird you will come to understand what part of your journey he symbolizes for you.
Through reflection and observation we can draw on the wisdom of hummingbird, and apply it to our own life situations. To assist in bringing this awareness into your daily life, display photos, paintings or sculptures of the hummingbird in your home or office as a reminder of his unique qualities.
Seeing the hummingbird always sends a flutter through my own heart, as he reminds me that there is joy on my path and in my life. May his wisdom and spiritual symbolism weave through your life too.

About The Author: Cheanne

Cheanne's Divine gifts came to her in her early 20's, when this young Australian accountant felt suddenly compelled to take a creative art class. On the blank canvas, she saw a face that moved her greatly, and she painted it. The brush took on a life of its own, as she painted the divine presence of Buddha. We are not alone, she suddenly knew, and that feeling has stayed with her ever since! Messages and healing have come through her art work and from her Intuitive sessions that connect clients with spiritual guidance to navigate through life's changes and challenges. She also helps clients tap into and experience their own unique gifts. Since 2013, Cheanne's helped business owners achieve their creative visions, she's provided clients with portraits of their Angels and Guides, and she's channeled messages at New Age Festivals, Expos, from her local practice room, home studio, via phone and internet, and through the dozens of group workshops and intimate retreats she's provided. Her unconditional, loving support has touched thousands, and acts as a bridge to connect clients with a powerful, Divine Guidance. You can find this unique and wonderfully talented Intuitive at PsychicAccess.com.


This site uses Akismet to reduce spam. Learn how your comment data is processed.