palmistry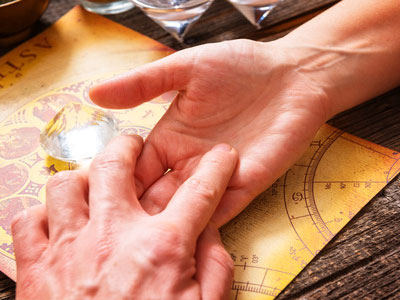 Palmistry, chiromancy, or palm reading, is one of the oldest methods of foretelling the past, present and future, by reading the lines of the hand. It is a form of divination practised all over the world. The earliest recorded evidence of this divination technique has been found in Asia, from where it spread to the rest of the world.
Each person has unique lines and shape of hand. Thus the use of fingerprinting in identifying individuals. In palmistry, the lines and shape of the hands indicate a person's character, marriage, how many children they will have, as well as the foreboding of positive and negative life events. Continue reading →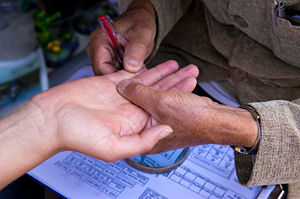 Friends of mine recently treated me to a Cheirology session, and I found myself looking forward to what I thought would be the equivalent of a palm reading. Cheirology (also known as Chirology) is referred to as both a science and an art form which analyzes the hands, whilst also considering the emotional, physical, mental and spiritual state of a person. I assumed the session would basically tell me a bit about my past and future, plus highlight some good and bad choices I'd made over the years.
However, I found it to be different from palmistry in that it is non-predictive. The concept of Cheirology is that everything is energy, which cannot be destroyed and simply transforms itself.  Thoughts and intentions are aspects of energetic relay, and the lines created in the hand through these thoughts and intentions can change as often as every three months. Continue reading →