What Your Face May Reveal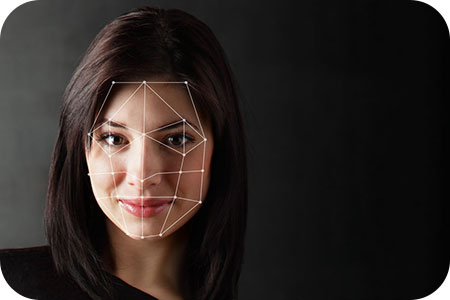 The art of palmistry divines the hidden meanings in the shapes and patterns of our hands. But did you know that reading the face is also a psychic art? From ancient times face reading, or physiognomy, has been used as a method of divination to gain insight into personality, individual gifts, and personal relationships.
The face, like the hands, can be read in multiple ways. For someone just beginning, start with the basics. The left side represents the person's basic temperament (outward) where the right side reveals the emotions (inward). If we divide the face into thirds, the top third is the past and childhood, the middle third is the present, and the bottom third the future, as well as hidden motives. The part of the face which appears most prominent will usually indicate where the person's  thoughts linger the most.
Three basic face shapes (round, square, and oval) are strong indicators of a core personality. Round faces reflect a person who is outgoing and artistic, but may be unreliable. Those with square faces are often strong-willed and confident, but may struggle with anger and frustration. And oval faces tend to belong to those who are intelligent and optimistic if a little unfocused.
Each individual's features (forehead size and shape, size and spacing of eyes, chin and nose size and shape) also tell more of their unique story. For example, a high and broad forehead may be a person who is sharply intellectual, whereas a high and narrow forehead is someone more rooted in practical skills. Much like our fingerprints, no two faces and sets of features are alike.
Faces always talk too much. One line and all their plans are revealed ~ Floriano Martins
So, how to go about deciphering the clues? The best test subject, as it turns out, is you! No matter how many selfies you've taken, do you know if the corners of your eyes turn up or down? How long is your nose? Is your chin rounded or pointy? Start by taking a picture of your face, and print or draw it so that you can start mapping. Once you start learning the road map of your own face, you can more easily learn what you've applied to others.
As with other forms of personal analysis, face reading can work for our personal growth. Mapping our own face may unlock some parts of ourselves we have long kept hidden. How you respond to stress, how you best relate to a potential partner, the best career for your talents… these are only a few of the many questions which might be answered through your face. And, once you learn to understand the basics, you'll start to be able to better understand the motivations and actions of others.
Businesses have been known to decide between two equally matched candidates for an open position using facial analysis. If you've mapped your own face and want more practice, why not recruit a friend or two, or a picture of your favorite celebrity? Dive deep into this fascinating art and start learning more about yourself and others.

About The Author: Mystic Shelley

Mystic Shelley is a Psychic Medium. She has been reading for over 15 years helping and guiding people. She uses my 8 spirit Guides during her readings. She reads in the area of love, relationships, career, money and all matters of love. She will give you only honest and direct answers. Get a reading with Mystic Shelley now at PsychicAccess.com