chiromancy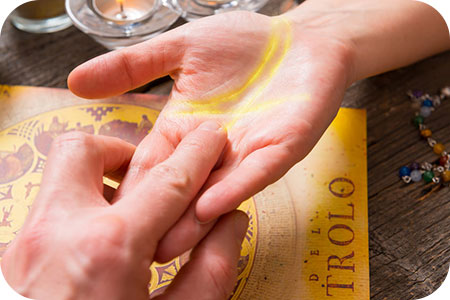 It is sometimes said that our destiny lies in our own hands. Well, it is true. Literally. With the ancient art of palmistry we can learn deeper truths about ourselves and, yes, even our destiny.
Palmistry, also known as Chiromancy, is the divination of meaning by reading hands. Someone new to this field may think that palmistry is only about the lines on the palm of the hand. However, the size and length of the fingers themselves, fingernails, and the ratio of the digits, all also hold deeper meaning.
Each of us has a dominant hand. The aspects of this hand usually represent the part of ourselves we project to the world, much like our Sun sign in Astrology. The less dominant hand represents our more hidden aspects and desires, which corresponds to our Moon sign. It's therefore best to examine your dominant hand for an accurate reading.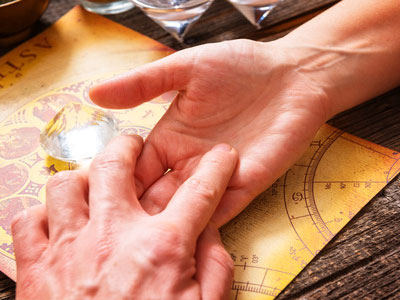 Palmistry, chiromancy, or palm reading, is one of the oldest methods of foretelling the past, present and future, by reading the lines of the hand. It is a form of divination practised all over the world. The earliest recorded evidence of this divination technique has been found in Asia, from where it spread to the rest of the world.
Each person has unique lines and shape of hand. Thus the use of fingerprinting in identifying individuals. In palmistry, the lines and shape of the hands indicate a person's character, marriage, how many children they will have, as well as the foreboding of positive and negative life events. Continue reading →