Daily Archives:
March 22, 2023
Published
March 22, 2023
|
By
Sheri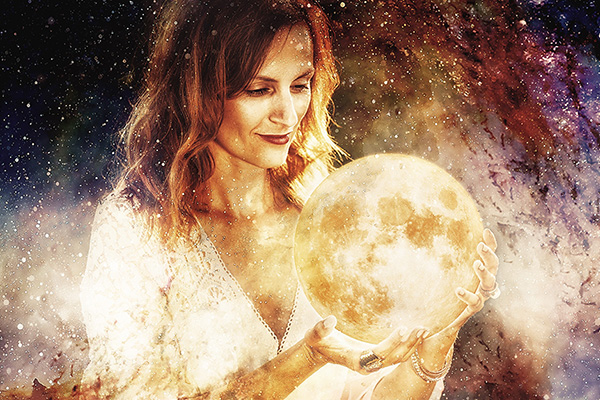 The Moon is traditionally revered as a beloved relative by the Anishinaabe peoples, a large group of culturally-related indigenous people in the United States and Canada. She is known as Nookomis, or 'My Grandmother.' Throughout the ages the elders of Ojibwe, one of the largest tribes of the Anishinaabe, shared with younger generations the creation story of their people.
The legend begins with Manitou, the Great Spirit, who created the Universe by dreaming it into existence. Manitou then decided he wanted to create a special creature like himself who could also dream, imagine and create. But he could not accomplish this on his own. He needed the help of the divine feminine energy of Geezhigo-Quae, the Sky Woman.
So, he ascended to her in the sky and asked her to be the mother of his children. She agreed and came down to earth to give birth to twins on the back of a Great Turtle. She named the boy and the girl 'Anishinaabe,' meaning 'human' or 'person' born from the mind of the Creator.
Before she returned to her home in the sky, Manitou gave her a new name: Nookomis, the Great Mother of the Anishinaabe. Grandmother Moon now lives in the sky world as a nurturing, protective energy watching over her many grandchildren by providing light and reassurance in the darkest of nights.
During my meditation today, I received a message from Grandmother Moon, which I am to carry forward myself this year and share with others who also wish to embrace her guidance. The message I am to share is simply this:
Posted in

Goddess, Intuition, Life Design, Meditation, Metaphysics, Self-Help, Shamanism, Spirituality
|
Tagged

alignment, ancestor messages, ancestors, beliefs, channelling, creation, creator, culture, divine feminine, divine guidance, divine inspiration, energy vibration, fable, great spirit, guidance, health, higher self, highest good, holistic health, inner being, inner guidance, inner truth, inner voice, inner wisdom, intuition, legend, lunar energy, mental health, moon, moon energy, motherhood, myth, mythology, native american, nurturing, psychic channeling, self-healing, self-trust, soul, soul energy, soul guidance, spirit entities, spirit messages, spiritual guidance, spiritual messages, spiritual path, spiritual traditions, the mother, traditions, tribe
|
Leave a comment