A Message From Grandmother Moon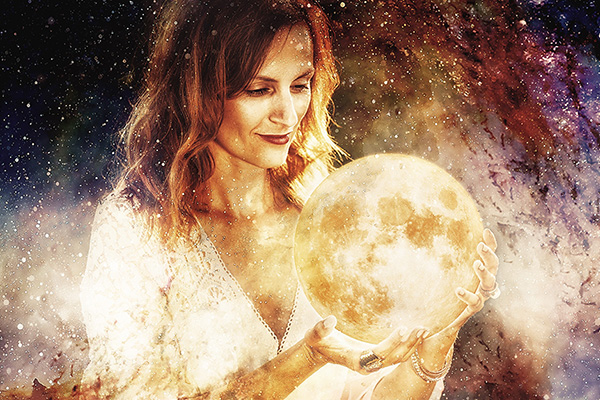 The Moon is traditionally revered as a beloved relative by the Anishinaabe peoples, a large group of culturally-related indigenous people in the United States and Canada. She is known as Nookomis, or 'My Grandmother.' Throughout the ages the elders of Ojibwe, one of the largest tribes of the Anishinaabe, shared with younger generations the creation story of their people.
The legend begins with Manitou, the Great Spirit, who created the Universe by dreaming it into existence. Manitou then decided he wanted to create a special creature like himself who could also dream, imagine and create. But he could not accomplish this on his own. He needed the help of the divine feminine energy of Geezhigo-Quae, the Sky Woman.
So, he ascended to her in the sky and asked her to be the mother of his children. She agreed and came down to earth to give birth to twins on the back of a Great Turtle. She named the boy and the girl 'Anishinaabe,' meaning 'human' or 'person' born from the mind of the Creator.
Before she returned to her home in the sky, Manitou gave her a new name: Nookomis, the Great Mother of the Anishinaabe. Grandmother Moon now lives in the sky world as a nurturing, protective energy watching over her many grandchildren by providing light and reassurance in the darkest of nights.
During my meditation today, I received a message from Grandmother Moon, which I am to carry forward myself this year and share with others who also wish to embrace her guidance. The message I am to share is simply this:
"It is time that you trust your intuitions when it comes to your soul purpose, your spiritual truth, and what you know is right and wrong. Follow the inner rhythms of your heart, your deep soul vibrations. Learn to identify those things that make you feel disconnected, and those things that make you feel more aligned.
I carry within me the heart of a warrior, the mind of a pharaoh, the soul of a goddess and the wisdom of my grandmothers' grandmothers ~ Grace Gegenheimer
When you are following the wrong path, you shall not find the inner peace you seek. There will be a part of you that constantly shifts, and things will simply go wrong again, and again.
Deep within you know that you're doing the wrong things, but you are not always listening, because you want something different than what Grandmother Moon is telling you is for your highest good.
The inner guidance of your soul is always telling you the right thing and will bring you a sense of peace and comfort within on each step of your path. Ignoring it will bring disruption and disappointment, and at times it will also affect your physical and mental health.
Connect with your intuition and trust that you are following your highest good when you do so."

About The Author: Sheri

Sheri is an international psychic and angel reader who provides clear answers on finance, career, relationships, manifesting your dreams, and working-out the kinks of life. Since 2004, Sheri is the owner on an International Spiritual Healing Centre where she runs her Reiki practice - either working on clients or teaching them the levels of Usui Reiki. She utilizes her office space for readings that are conducted via mail, phone, chat or live. Since 2008, she's honed her gifts on various psychic service websites, where she's provided telephone, chat or email readings. She also works on a spiritual network for people who have suffered horrific loss, applying her own first-hand experiences with such tragedies. Sheri's work has been described as honest, compassionate and life-transforming and she would like to see all of her clients soar free to a higher level of spirituality and growth, and exponentially change the world to the best it can be. You can get a psychic reading from Sheri at PsychicAccess.com.


This site uses Akismet to reduce spam. Learn how your comment data is processed.