Daily Archives:
March 10, 2023
Published
March 10, 2023
|
By
Lucinda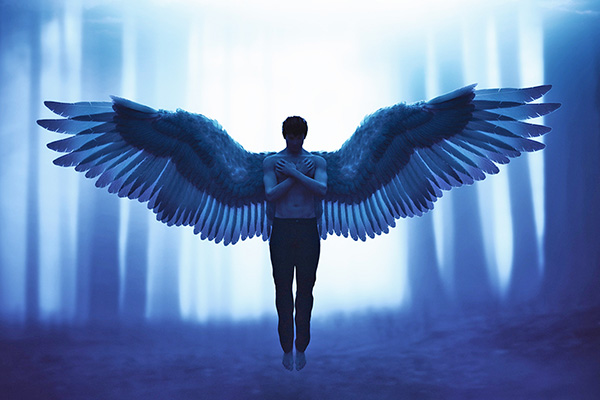 When I was nine years old, British troops were deployed to Northern Ireland after violence had erupted in the streets and the local police were no longer able to cope. Johnny, a young man from our neighborhood, was one of those soldiers called up. He was about 20 years old and lived just down the road from us.
Sadly, after just two months in active service, Johnny suffered a fatal bullet wound. His passing shocked our community and understandably devastated his family. My mother and I visited his mom at the time to convey our condolences. I remember her telling my  mother that at the very moment of Johnny's passing, everything in their family home went deathly silent because, as he put it, "the angels were passing."
Her profound words left a lasting impression on me. At first, I wondered if this meant that angels sometimes also carry bad omens or bring us tidings of misfortune? But my mom soon put my mind at ease and explained that it meant quite the opposite. Angels show up to comfort and carry us through difficult times, such as at funerals and untimely passings. They bring us a sense of peace and support when it is most needed.  With sudden passings, the angels make their presence known, like they did with Johnny's family, at the moment of the person's passing.
Almost 50 years later, my dear mother was a nursing home and not in the best of health. I was very worried about her. One morning, I drove into town to take my mind off things. I soon noticed the car park and the streets were exceptionally quiet and empty for this the time of the day, and month. I remember briefly thinking to myself it's as if 'the angels are passing.' Later, when I arrived home, my husband informed me that my mother had passed.
Posted in

Afterlife, Angels, Metaphysics, Paranormal Phenomena, Psychic Phenomena, Spirit Guides, Spirituality
|
Tagged

angel, angel guidance, angel messages, angel protection, angel signs, angels, benevolence, bereavement, birds, childhood, crossing over, death, deathbed visions, divine guidance, divine intervention, divine love, grief, guardian angel, guidance, illness, inner peace, isolation, loneliness, loss, loved ones, memories, natural disaster, near death experience, omen, pain, paranormal phenomena, premonition, presage, presentiment, psychic experiences, signals, signs, spirit animal, spirit communication, spirit guardians, spirit guides, spiritual experiences, spiritual protection, suffering, support, trauma, unconditional love
|
Leave a comment