Daily Archives:
December 5, 2021
Published
December 5, 2021
|
By
Shani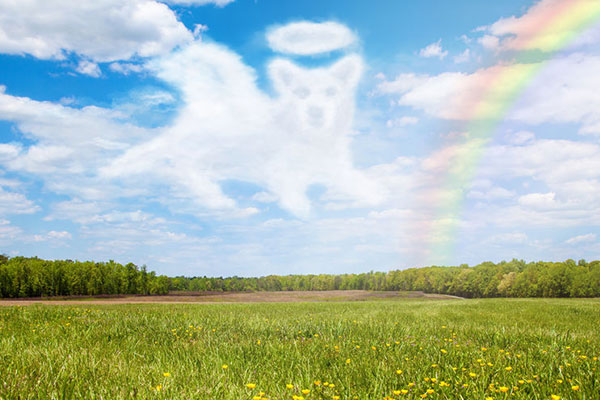 Yesterday, at sunrise, I was driving my cat to the veterinarian's consulting room. Approximately fifteen minutes into our journey, there was a beautiful rainbow ahead. With little traffic on the road at that early hour, I could ponder its splendor. Then, my thoughts drifted to the Rainbow Bridge and all my beloved pets that have crossed that bridge to the Other Side.
I thought of each one of the special furry souls that have graced my life with their presence over the years. I felt such a strong telepathic communication with each one of them in that moment. Finally, I thought of the little one who most recently passed, and the love and lessons we shared.
Then I 'heard'…and what about me? At that very moment, I noticed two large cloud formations had formed in the sky that resembled the front and the back view of my little dog, Nel. The shape and detail of the clouds were exactly like her!
Nel was a special part of my life and her passing very traumatic, especially since she died so young. Was I meant to miss her in my thoughts so she could come through as such a beautiful vision? I may never know the answer to that, but I do know what I witnessed was profound and very real.
So much has been written about the Rainbow Bridge. Yesterday, it all seemed highly relevant, because the day before setting out to the vet, I had been arranging some memorabilia on new shelves in my home that showcase pictures of all my pets who crossed over rainbow bridge. It is on display with some trinkets that remind me of them, like name tags and pretty boxes with their ashes I had not yet sprinkled.
Posted in

Afterlife, Dreams, Metaphysics, Paranormal Phenomena, Pet Psychics, Psychic Phenomena
|
Tagged

afterlife, angel messages, angel signs, animal communication, animals, astral realm, astral vision, bereaved, crossing over, death, dogs, dream analysis, dream interpretation, dreams, etheric realm, etheric vision, evidential mediumship, grief, healing, heaven, loss, lucid dream, mediumship, memories, mental mediumship, pet psychic, pets, psychic dreams, psychic vision, sign, signs, spirit messages, spirit realm, spirit signs, spiritual messages, synchronicity, telepathy, the other side, visions, visitations
|
1 Comment