Daily Archives:
September 23, 2021
Published
September 23, 2021
|
By
Shani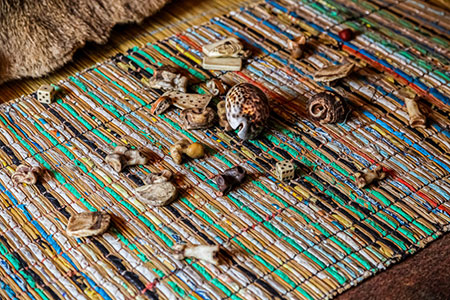 Before studying various Western disciplines of healing and divination, I trained to become a sangoma some 30 years ago, on the borders of Mozambique and Kwazulu-Natal in Southern Africa, where I learned among other things the divination method known as 'throwing the bones.'
A 'sangoma' casting the bones is the African equivalent of the Native American shaman, the Old Norse rune reader, or the European Tarot reader. To uninformed Westerners, indigenous African methods of divination are often thought of as 'witchcraft,' but just like there is good and bad in all cultures and professions, the true calling of the African diviner or shaman is a spiritual one of seeking advice through the wise ancestors. In the same way modern Western diviners rely on spirit guides, angels or the ascended masters for divine guidance, so the African diviner relies upon the ancestors.
My training came about after I consulted another sangoma and was told it was my calling to become sangoma myself. She also cautioned me that until I took up this calling, I would repetitively become ill – and how right she was!
Eventually I heeded the 'calling', as unusual as it was at the time for a young English woman to enter the mysterious realm of African mysticism in the country in those days. Training was harsh and intense with my mentor and included coaching in various disciplines, such as divination, dream interpretation, ritual,  indigenous medicines, and herbalism over a two and a half year period.
One of the divination methods I was taught is known as 'throwing the bones'. Since the beginning of recorded history the notion of throwing tokens, casting the dice or drawing lots to interpret the divine will of spirit and the ancestors has been viewed as symbolically linking the diviner to his or her mission. Casting or throwing the bones is an ancient practice native to many regions of the world, including Africa, Asia, and North America. In Southern Africa it is a long-standing ritual among the sangomas of the Zulu, Swazi, Xhosa and Ndebele tribes.
Each bone or token used for casting is part of a kit the sangoma carefully selects with the guidance of spirit, initially with the help of a mentor. Spirit and the ancestors instruct the seeker as to the symbolism and meaning of each sacred item in the collection, and precisely shows the student where to find it and which one to use in a divination. In Southern Africa, a mentor assists the thwasa (trainee sangoma) in the process of learning to receive information from the bones, and in reading the patterns in which the bones are likely to fall.
Posted in

Afterlife, Alternative Medicine, Crystals & Stones, Divination, Healing, Psychic Readings, Runes, Shamanism, Spirit Guides
|
Tagged

advice, amulets, ancestors, animal medicine, beliefs, charms, clairaudience, culture, divination, divination tools, divine guidance, diviner, energy work, guidance, healer, healing, herbalist, herbs, intuitive consultant, medical intuitive, mediumship, mediumship reading, mental mediumship, mysticism, predictions, prophecies, prophet, psychic advisor, psychic guidance, psychic predict future, psychic reading, psychic readings, psychic tools, reading, ritual, runes, shaman, spirit animal, spirit guidance, spirit guides, spirit messages, spiritual advisor, spiritual counseling, spiritual counselor, spiritual guidance, spiritual healing, spiritual insight, spiritual messages, spiritual traditions, talismans, traditions, witchcraft
|
Leave a comment