Daily Archives:
September 15, 2021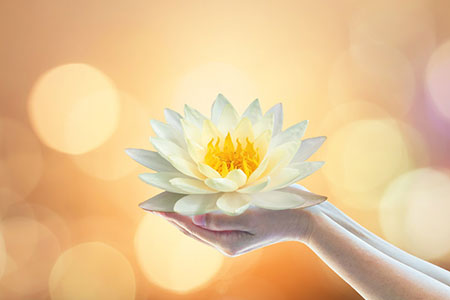 I recently attended an online psychic development workshop. In one of the tasks, we had to partner with another student and do a 'flower reading.' I know touching an object using psychometry works well in readings, but this is something else.
Our teacher paired us up and we didn't know in advance with whom. We also had to intuitively pick a flower for our partner beforehand. At the beginning of the session, we had to show the other person the actual flower or a color photo of the flower we had chosen for them on our shared screens.
In preparation for this, I placed many pieces of paper, each with the name of a different flower on it, into a bag, shook it up, and drew one. Spirit guided me to select the Indian lotus flower or nelumbo nucifera.
When it was my turn to read for my classmate, I relaxed and observed the image of the lovely white lotus in front of me. The depth of information that came forth in the reading about her past, how her life was now, and what lay ahead, was truly amazing!
The reading revealed that she was going to be blossoming soon like the lotus, because she currently finds herself in a strong development stage. I later learned that she'd been through some dark times, almost giving up on herself. She had recently begun doing deep shadow work, as well as exploring her psychic development.
She is also recovering from a recent trauma and the lotus is traditionally known for being the ideal gift for someone recovering from any traumatic experience or physical injury. Many years ago, I attended a Yoga class during which the challenges of the lotus position was discussed in-depth. The teacher said that through proper breathwork and becoming more flexible, one's body will allow you to achieve this pose.
I was only 19 years old at the time and not very supple. I saw no hope of achieving that position for quite some time. However, only a few classes later, we did a session during which a lot of emphasis was placed on our breathing. And to my amazement, I was able to easily get into the lotus position!