Daily Archives:
September 12, 2023
Published
September 12, 2023
|
By
Lucinda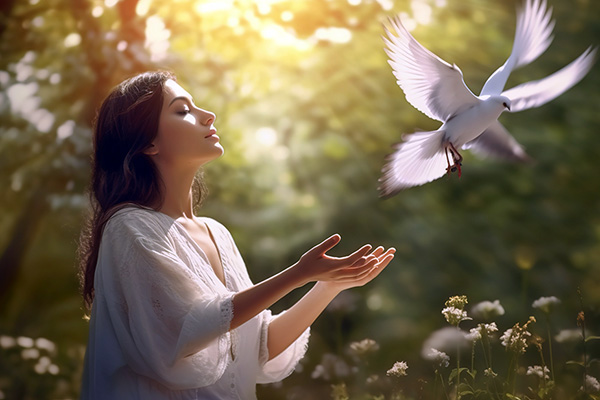 Although I consider myself a very spiritual person, forgiveness has not always been one of my strengths. In fact, I used to struggle with forgiving those who had hurt or wronged me.
Fortunately, as I matured in my spiritual evolution, I eventually realized that by not letting go of negative events and experiences in my past, I was only being haunted and held captive by them, which was not serving my highest good.
For several years, I was stuck in a downward cycle of replaying certain past events in my mind, reliving every excruciating detail and allowing the past to negatively influence the present and my future. Over time, it became clear that this issue was holding me back in more ways than I could have imagined.
To find some answers, I decided to shift the focus of my spiritual practice for a few months to consult my guides on this issue. During this time, spirit guided me as follows.
Letting Go
To truly forgive, we must let go of the past. There is no true forgiveness if we still somehow hold on to the smallest regret or resentment. Forgiveness is all, or nothing. There are no half measures or gray areas.
Forgiveness is more than just an emotional healing process, it is also an empowering metaphysical practice. If we do not release something completely, we continue to hold some level of negative energy that continues to affect our current vibration, which diminishes our quality of life and negatively affects our future happiness.
Posted in

Afterlife, Energy, Energy Work, Healing, Life Design, Love & Relationships, Self-Care, Self-Help
|
Tagged

abuse, acceptance, anger, blockage, candles, ceremony, disappointment, emotion, emotional challenges, emotional freedom, emotional healing, emotions, energy blockage, energy healing, energy release, energy vibration, evidential mediumship, father, feelings, forgiveness, fulfillment, growth, happiness, hatred, healing, heartbreak, highest good, inner peace, karmic healing, life design, mediumship reading, mental health, metaphysical practice, negative emotion, pain, parenting, parents, personal growth, regrets, release, resentment, ritual, self-empowerment, self-healing, self-limitation, self-sabotage, spirit communication, spirit contact, spirit guidance, spirit messages, spiritual contemplation, spiritual growth, spiritual healing, spiritual insight, spiritual lessons, spiritual practice, spiritual self-care, spiritual wisdom, suffering, surrender, toxic feelings, transmutation, trauma healing, violence
|
Leave a comment