Daily Archives:
September 8, 2023
Published
September 8, 2023
|
By
Mariella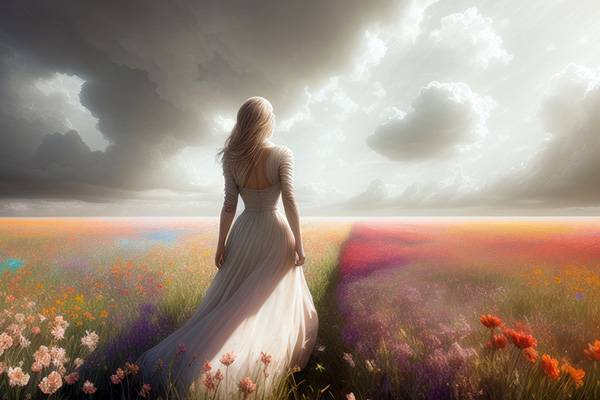 The night is creeping up so quickly. You had so many plans for the day that has passed. You were sure that today was the day that miracles would come, that they would begin to flow. Yes, you have made some progress, you have removed some of the obstacles in your path, but here you are in the darkest part of the night, still in that place where doubt,  anger, worry reign supreme.
In such moments we begin to feel alone. like a ship without a life raft, no one to call, no one to care.
Remember, we are never alone. The energies around us, the old ones, the ancients, the universe itself is here to hear our cry, our call. There are answers not only within ourselves, but there are messengers sent to Earth to listen, to hear, to care. These divine messengers come because the Great Spirit sends each one to us at just the right time.
An animal or bird we don't normally see may appear on our path to instinctively give us the strength we may need on that path. An old beggar on the street asking for a few coins may speak words that stun us because they are exactly the words we needed to hear.
We reach out to chat groups for online support and hear craziness, advice that we can barely realistically believe. We have become cynical, forgetting that the universe puts what we need in our path when we need it.
There is no such thing as 'being alone.' We have the whole universe around us. So, sing out to the universe your pain, your despair. Your heart will receive the messages you need, the answers you want.
Posted in

Life Design, Love & Relationships, Self-Help, Spirit Guides, Spirituality
|
Tagged

advice, ancestor messages, ancestors, angel messages, animal medicine, anxiety, birds, communication, courage, darkness, despair, divine guidance, divine support, duality, energy flow, enlightenment, faith, fear, goals, great spirit, guidance, ideas, inner guidance, inner peace, inner strength, isolation, kindness, loneliness, love, miracles, negative thinking, positive thinking, power animal, sadness, self-love, self-talk, spirit animal, spirit guides, spirit messages, spiritual awareness, spiritual messages, spirituality, thoughts, totem, toxic thoughts, unconditional love, universal flow, universe, wisdom, worry
|
Leave a comment