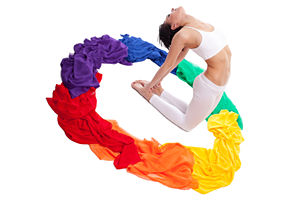 Something recently came to mind that I used to do long ago, when working with clients who requested chakra readings. I called the technique I created 'The Water Wheel' and it is my pleasure to share this with you.
Water is a great cleanser. Its fluidity and continuity makes it one of our world's most formidable allies, or our worst enemy, depending on how Mother Nature chooses to express herself.
Our bodies are 98% water and, as it is with the cycle of the ocean's tides, we are subconsciously also very 'moved' by the power of water. The Water Wheel signifies motion. It goes in a circle but it also goes forward within that circle. The Water Wheel cleanses our chakras with the motion of water and the movement of the wheel.
The chakras are the energy centers of the body and they sometimes become 'clogged up by stuff', such as negative emotions of fear, envy, anger or lust. When this blockage occurs we tend to feel 'bogged down', with no energy to get to where we want to be, be it mentally, physically or emotionally. A chakra cleansing helps to open the door for that built up energy in the affected chakra areas to dissipate. Continue reading →