How to Jump Vibrational Frequency Timelines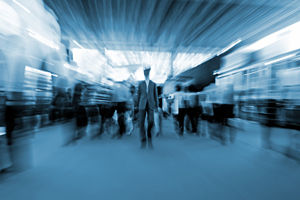 First, we must define the three timelines:
First Timeline – Where we want to be, 13 of 100 Lightworkers are consistently in this state, on an ascending path.
Second Timeline – Where most of the population is, erratic in frequency, sometimes in and sometimes out (you could say 'up and down'), influenced by others around them, worried about what others think. Yet, they are on an ascending path.
Third Timeline – On descending path. They are dealing with some of the following traits; angry, envious, jealous, sorrowful, regretful, greedy, arrogant, pitying themselves, feeling guilty, resentful, inferior – all low level vibrational frequencies. I am sure you can think of many more attributes that apply here.
So, how do we jump these vibrational frequency timelines consistently?  By becoming aware of our choices and consistently make good ones that are most altruistic for ourselves and others.
Everyone and everything that shows up in the world of form in this universe originates not from a particle, as quantum physics teaches us, but from an energy field ~ Wayne Dyer
I often tell my clients this: I feel deeply that classes should be taught starting early on to teach children how to make good choices. We are not taught how to make good choices that will affect our lives and everyone we come into contact with throughout our time on this planet.
I am referring to the Field of Quantum Energy.  I am a licensed practitioner of the Quantum as a pathway to awareness.  I practice a protocol that I download energetically, as I channel the Council of 14 to step down the energy in waves.
The Quantum collapses reality into manifestation within your own consciousness and supports you in your intention as you relax and take in the waves. If you are interested in manifesting your intentions through this unique short-cut that by passes our minds and shifts our perceptions of ourselves 360 degrees, contact me at Psychic Access and I will guide you in accessing this field of total light and information.
About The Author: Mountain Sage

Mountain Sage's profession is Metaphysical Academics. Her extensive training includes Oracle, Healing, Universal Laws & Principles, the Sacred Circle and Psychic Shielding. Focus includes Ascended Masters, Altars, Minerals, etc. She holds the great honor of Oracle Carrier by her tribe due to her outstanding psychic ability, passion for the psychic realm, integrity and sacred work. Get a psychic reading with Mountain Sage at PsychicAccess.com.


One Response to How to Jump Vibrational Frequency Timelines