The Angel At Friday Night Football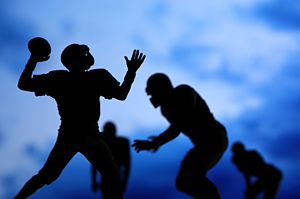 Friday night football is bigger and better in Ohio. Where I live everybody knows it is the best place to get away from your everyday work and enjoy the sports under the stadium lights.
My wife and I go with my in-laws, my sister in-law and my nephew to every home game where my nieces are performing as cheerleaders. We usually go to the top of the stadium to the far left, as far as we can go for the best possible view.
Last Friday night at the football something happened to me that I never ever thought would happen to me. An angel appeared to me and talked to me. She looked like a human in the flesh.
I often play an 'astronaut' game with my nephew at the football game, to try and keep his attention, while I watch the game the same time.
God not only sends special angels into our lives, but sometimes He even sends them back again if we forget to take notes the first time!  ~ Eileen Elias Freeman
While we were playing, I noticed there was a lady in front of me, a little to my right and about four rows down, who was calling out a female name. I did not give much thought to it at first, because you often see parents at the game calling out to someone when they are holding a seat for them.
Well, just before half time I hear this lady calling the same name again, and I felt annoyed, because she was really getting on my nerves by now.
My nephew asked if we can go to the snack bar to get a hot dog and something to drink. Then, as we were returning to our seats, the lady who was calling the female name was now walking down the stairs and when she walk passed me, she said, "tell her everything will be fine". I said, "Sorry, what did you say?" but when I turned around she was gone.
I did not realize at the time that she was giving me a message for a client, who I was going to do a reading for the next day.
Towards the end of the 3rd quarter of the game, I told my wife what happened and my nephew interrupted me by saying, "Uncle Raymond talked to someone who was not there, I never saw no one!"
The golden moments in the stream of life rush past us and we see nothing but sand; the angels come to visit us, and we only know them when they are gone ~ George Elliot
We left after the 3rd quarter, and my wife asked me if I was okay. I told her I was kind of stumped about what the strange lady said to me, and that I worried she might be talking about one of our family members. Then my wife said, "When was the last time you talk to your brother John?"
Well, on Saturday I got a call from a client who was seeing a man called John! It what was funny, when she started to talk to me it was like all of a sudden the light switch was flipped on. I told my client about what happened Friday night and I told her what this lady was doing, and about her calling for this female. When I told her what this lady looked like, she responded with shock, "Oh my God, you have just described a very good friend who passed on recently".
I know that angels come to us in many different ways, and I know they are sent from God to help others in a time of need. This angel was sent to me in a time of need to give my client the spiritual message she need to hear for her to find inner peace. Just goes to show, anything can happen with the spirit world… even at a football game on a Friday night.
About The Author: Raymond

Growing up on the streets of Columbus Ohio, Raymond learned at a very young age that he was gifted in many ways, including the ability to read someone's eyes and using a regular deck of playing cards to read the future! His mother was from a Native American family, namely the Black Foot tribe, and his father was German. Raymond discovered that both sides of his family had a psychic legacy. Over the years he has gained additional knowledge from books and by talking to trusted family members. Raymond has been doing psychic reading for others for over 3 decades, and over the years he gained many loyal clients from all walks of life. Visit Raymond for a reading at PsychicAccess.com


This site uses Akismet to reduce spam. Learn how your comment data is processed.