Daily Archives:
August 19, 2020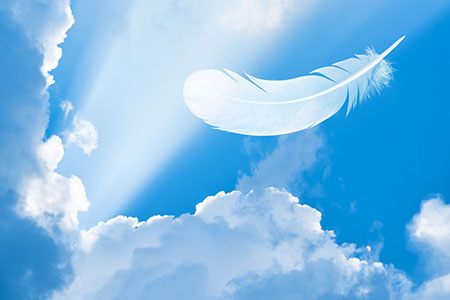 Our spirit guides, angels and ancestors communicate with us in many different ways, and send us various signs to remind us they are with us. They give us these signs in the way they know we will recognize them.
One of my favorite signs is finding a feather on the ground. If we think in our mind that we would love to see a feather show up, to let us know that we are on the right path, we will naturally be looking out for that sign and will find it. Knock and the door will be opened, ask and you shall receive, is something I strongly believe in.
When I ask for a visitation from a departed loved one, they will show up in some way, shape or form. For example, when I need my Grandpa or Grandma to guide me, by having a conversation with them in the astral realm, they often show up in my dreams at night.
If I need confirmation that a new endeavor I have embarked on is a good decision, and want to get a sign in the form of a feather, I usually receive it. Just this morning, while walking out to my car, there was a feather on the ground. It was lovely.
Posted in

Afterlife, Angels, Divination, Dreams, Life Design, Manifesting, Paranormal Phenomena, Self-Help, Shamanism, Spirit Guides
|
Tagged

affirmations, afterlife, ancestors, angels, animals, apparition, astral realm, beliefs, birds, blessings, decisions, dreams, etheric realm, family, guidance, power animal, prayer, signals, signs, soul group, spirit, spirit communication, spirit contact, spirit guides, spirit realm, spiritual messages, spirituality, totem, visitations
|
Leave a comment