Daily Archives:
August 21, 2020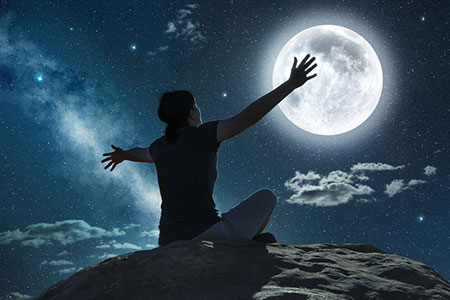 The Moon has a powerful influence on our lives. Not only does it determine the tides of the ocean and how plants grow, but you may have noticed it also affects our mood! Connecting to the powerful phases of the Moon can bring enlightenment to your life by way of the moon's cycles and movement. It can shape our lives and the choices we make. Being in tune with the Moon's powerful energy can bring you greater awareness of body, mind and soul.
Depending how the Sun, Moon and Earth align on a particular day, only a part of the Moon is usually visible to us. The tracking of the Moon's phases goes back thousands of year in various spiritual traditions and cultural customs. Traditionally, the New Moon is considered to be the start of the month and a good time to start anew. And the Full Moon is seen as a time of celebration, delight, and mystery.
A Full Moon occurs every 29.5 days, when the Earth is situated directly between the Sun and the Moon, making it appear to us on Earth as a complete circle… illuminated and breathtaking! Native Americans relied on the Moon to guide them in daily life. They gave symbolic names for each of the Full Moons, based on the unique events of each particular month of the year.
January – Wolf Moon
The January Moon is thus named due to the cold, snowy winters, when wolves would howl hungrily outside tribal villages, looking for food. January's Full Moon is also known as 'Old Moon' and 'Ice Moon.'
February – Snow Moon
February's Full Moon is named for the abundant snow that usually occurs during the month. The snow made it hard to hunt, and food in the winter was scarce. Therefore it is also known as the 'Hunger Moon.'