Daily Archives:
August 20, 2020
Published
August 20, 2020
|
By
Venus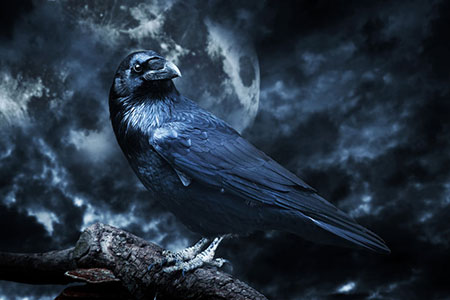 Crows and ravens are common in the superstitions of both the ancient Greeks and Romans. Both cultures considered these mysterious birds highly significant in the practice of augury, an ancient divination practice of interpreting omens or prophecies from the observed flight patterns of birds.
In the Greco-Roman world, the soothsayers, known as augers would predict future events by examining the behavior of birds, which was known as 'taking the auspices.' Crows and ravens were considered especially significant, both for their ominous black feathers, as well as their flight patterns and eerie behavior.  It was believed that if a crow or raven flew in from the east or south, for example. It was considered an omen of good, positive fortune.
Ravens and crows mythology is also found in the native cultures of North America. In addition to being portrayed as tricksters, the intelligence of these birds is often a prominent feature in their characterization. In one Native American story, the raven is described as a shapeshifter who stole a box of light owned by the chief of Heaven, and flew away with it. The raven dropped the box, and light broke into many pieces, creating the stars, the Moon, and the Sun.
Posted in

Divination, Metaphysics, Shamanism, Spirit Guides
|
Tagged

ancestors, animal medicine, beliefs, birds, culture, death, divination, evil, foreboding, forewarning, moon, mystical, mysticism, myth, omen, power animal, predictions, prophecies, psychic forecast, psychic predict future, shapeshifter, spirit guides, spiritual messages, sun, traditions
|
Leave a comment