A Feather From Spirit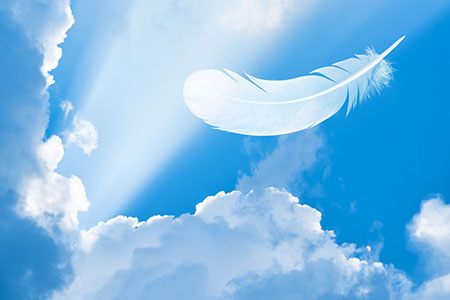 Our spirit guides, angels and ancestors communicate with us in many different ways, and send us various signs to remind us they are with us. They give us these signs in the way they know we will recognize them.
One of my favorite signs is finding a feather on the ground. If we think in our mind that we would love to see a feather show up, to let us know that we are on the right path, we will naturally be looking out for that sign and will find it. Knock and the door will be opened, ask and you shall receive, is something I strongly believe in.
When I ask for a visitation from a departed loved one, they will show up in some way, shape or form. For example, when I need my Grandpa or Grandma to guide me, by having a conversation with them in the astral realm, they often show up in my dreams at night.
If I need confirmation that a new endeavor I have embarked on is a good decision, and want to get a sign in the form of a feather, I usually receive it. Just this morning, while walking out to my car, there was a feather on the ground. It was lovely.
And to make things even better, as I was pulling out of the yard, a Cardinal Pretty bird flew right over my windshield. I believe that our ancestors can use birds to visit us. I felt very comforted when this happened.
If you receive a sign that makes you feel connected and aligned, and you feel that you're receiving an intuitive message to move forward, don't second-guess it. Trust that guidance ~ Gabby Bernstein
Also, it's a wonderful thing that when we call upon an angel they are always there for us. We just have to use some energy to ask for these gifts, apparitions, and visitations to occur. We need to pray and ask in our own authentic way.
We all have guides, and sometimes our ancestors become our guides. Especially if you ask them in life to be a guide or protector, and they say they will, I believe it will be. If the agreement is made in life, it will happen in the afterlife.
I have a client who receives her signs in the form of pennies. She always finds a shiny coin when she needs to know her guide is with her.
So, what is it that shows up for you that allows you to know that you are being guided, or protected? I bet if you think about it, you will remember things that have happened in your life that gave you the reassurance that your loved ones, guides and angels are with you.

About The Author: Moon Goddess

Moon Goddess is a third generation empathic healer and seer. She started to give healing readings to people more than 20 years ago. She has always been interested and studied all things metaphysical from a young age. Being hypersensitive she can feel and see things before they happen. Utilizing the Tarot, and with the help of her Guides, she is a source of support for many people all over the world. After he passed over, her grandfather kept his promise and came back to say goodbye and gave her the most amazing experience. Moon knows there truly is a Heaven, and it is wonderful! Sharing her experience has helped many people after they have lost someone, or anyone experiencing some form of grief. Get a reading with Moon Goddess now at PsychicAccess.com.


This site uses Akismet to reduce spam. Learn how your comment data is processed.