psychic predictions
Published
March 30, 2021
|
By
Shani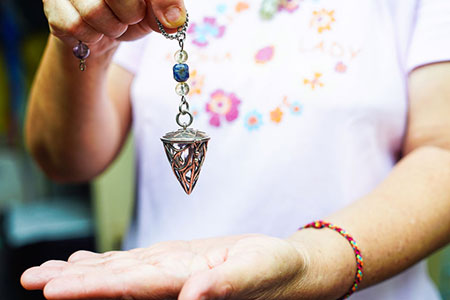 Dowsing can be used in our daily lives for tracking down missing car keys, that have been absentmindedly misplaced, or finding lost jewelry and other specific objects. Dowsing is also great for locating a lost pet…or even a child playing hide-and-seek!
The origins of dowsing can be traced back thousands of years, before technology and satellites were there to help locating oil…or pyramids. All those years ago, country folk would use a 'Y' shaped tree branch or twig to find water wells, or hidden treasure. It is commonplace these days to dowse for water, auras or even land-mines.
The only reason dowsing is being considered to be a 'psychic tool' is because scientists haven't been able to find a logical explanation for how dowsing works. This is also complicated by the fact that some dowsers have better results than others. Their accuracy often depends on how attuned the dowser is to their dowsing tool. Fine tuning to this art seems to come with experience.
When I begin a dowsing session, I set my intention as to what it is I want to uncover or find, and I ask for clear precise feedback. The feedback is given to me in the form of a 'yes' or 'no' response from my dowsing tool. I believe that my guides help to influence my higher self in creating muscle contractions along my arm and hand, to influence the movement of the particular dowsing tool being used.
Each of my pendulums and dowsing rods are programmed from the start, so I know which motion signals 'yes' or 'no'. When I do a dowsing session it helps energetically to have something like a photo, or another object in my hand which belongs to the person who the question relates. This is known as psychometry.
Unfortunately, I've also discovered that asking a question which is emotionally charged, for example "does he love me or not', doesn't always work, because one's emotions tend to influence the response, and therefore you tend to receive the preferred answer!
Posted in

Alternative Medicine, Aura Readings, Divination, Healing, Intuition, Pet Psychics, Psychic Readings, Self-Help, Spirit Guides, Technology
|
Tagged

aura, aura reading, aura scan, bio-magnetic energy, Crystals & Stones, Divination, divination tools, divine guidance, dowsing, electro-magnetic energy, energy field, energy healing, energy reading, energy vibration, forewarning, guidance, Healer, Healing, intention, medical intuitive, pendulum, pets, predictions, psychic detective, psychic guidance, psychic investigation, psychic predict future, psychic predictions, psychic reading, Psychic Readings, psychometry, reading, science, spiritual guidance, spiritual messages, Technology, water
|
Leave a comment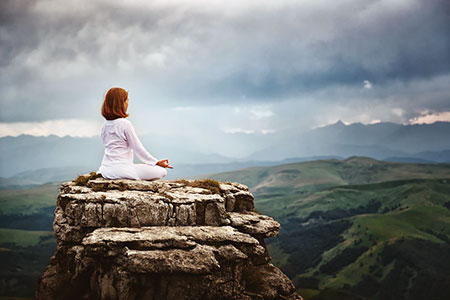 In a meditation circle the other day, there were many of us who got the same message from spirit: that solitude is of vital importance for soul growth and for tapping into our spiritual well-being and psychic potential.
It reminded me of my childhood. I was expanding my psychic awareness and started tapping into my psychic abilities at a very young age. I remember vividly spending time in a tree house, meditating and feeling so free and relaxed.
As I grew older, I began recording my psychic perceptions and spiritual insights in a journal, which at the time I simply thought of as 'my diary.' Reading back in later years, I discovered that I had unknowingly recorded many predictions that came to pass.
I would spend a lot of time in solitude and quiet contemplation. I would focus on a certain things or persons that were important to me at the time, and I would then receive intuitive flashes about what needed to be done, as well as what would come to pass, or not.
Discovering the power of solitude and quiet contemplation at such a young age made all the difference in my psychic development and personal spiritual growth. I can hardly imagine where I would be without it today, had I not cottoned on to this in my youth.
If you can spend just a few minutes in sweet solitude every day, or even a few times a day, you will boost your mental and physical health and reduce your stress levels. You will find you will hear your body better for what it needs for healing and well-being.
Spiritual practice in solitude will also empower you to become more creatively inspired and you'll receive more insightful messages and guidance from spirit. If you want to connect with your intuition and psychic abilities, it is vital that you spend more time in alone in meditation.
Posted in

Crystals & Stones, Energy, Energy Work, Healing, Intuition, Lifestyle, Meditation, Psychic, Self-Help, Spirituality
|
Tagged

calm, extra-sensory perception, growth, guidance, harmony, inner guidance, inner peace, Intuition, isolation, journal, journaling, Lifestyle, Meditation, perception, personal growth, Psychic, psychic abilities, psychic attunement, psychic awareness, psychic development, psychic experiences, psychic forecast, psychic guidance, psychic predictions, psychic sensing, psychic wisdom, relaxation, self-awareness, self-care, self-empowerment, self-healing, self-knowledge, self-reflection, sensing, silence, solitude, spirit messages, spiritual growth, spiritual healing, spiritual insight, spiritual practice, stress, tranquility, well-being, wellness
|
Leave a comment