Supported By Spirit – Part 1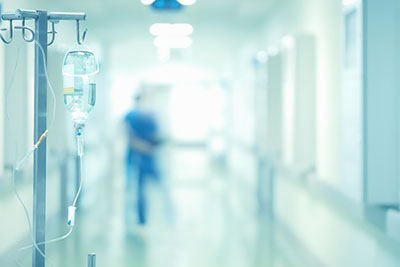 Many years ago, an accident changed my life forever. I was traveling across the country, addressing audiences in different cities every evening. Then everything changed forever in one night.
On that fateful evening, a woman arrived late for my corporate presentation. While the introductory video was running, I asked whether she had completed her ballot for the free draw. When she indicated that she had not picked up a ballot, I said that I would get one for her in the hotel hallway and walked directly from the front of the room to the nearest set of double doors.
Just knowing you're not alone is often enough to kindle hope amid tragic circumstances ~ Richelle E. Goodrich
In most venues, the audio speakers were usually positioned behind me, in the corners of the room. However, on this occasion they were in front of me, about a third of the way along the side walls. To get to the hallway doors, I had to walk between one of the audio speakers and our first table of guests.
Normally, commercial speakers have a tri-pod base, like a camera stand, so the legs are not usually in the way. This time, however, the base was more like that of a very high office chair, with a vertical centre pole and several chrome spokes that extended horizontally a few inches above the floor. To make matters worse, these bars were hidden beneath black cloth, to camouflage the shiny silver metal.
As I walked toward the exit doors, I motioned to the audience that I would be right back. I had no idea what was about to happen next. Yes, I tripped over the metal bar that was positioned across my path!
Since it was invisible under the black skirting material, I had no warning. I landed very hard. I dislocated my shoulder and shattered the bone in four pieces. I also crushed my knee. My foot became entangled in the black cloth and broke upside-down over the bar. Whiplash caused my head to become jammed to the left and slightly upward, so my entire left side was immobilized.
When I arrived at the hospital, an emergency room physician borrowed my cell phone to take a photograph of the shoulder x-ray. He knew that every specialist I would meet in the future would want to see the original state of the injury because it is extremely unusual to dislocate a shoulder and break the bone at the same time.
Angels come to help and guide us in as many guises as there are people who need their assistance ~ Eileen Elias Freeman
After I was moved to a hospital room, a nurse took more information and two business colleagues remained with me into the wee hours of the morning. But I was mostly distracted by a fourth person present in the room, who kept pacing behind me, to my left and just out of my direct line of sight.
I got the impression that this unknown man in the corner was in deep contemplation, walking with his head bowed and hands clasped behind his back. I couldn't figure out why he didn't come forward to speak with me?
It wasn't until the next day, when I was wheeled away for the first surgery, that I got a better view of the room. The head of the hospital bed was tight against the wall and the corner of the room was full of medical equipment. There was no space for anyone to pace behind me!
I finally realized that one of my Spirit Guides had been with me throughout the start of this long and painful ordeal. Little did I know how much they would help me during the ensuing months.
Continue to Supported By Spirit – Part 2

About The Author: Monica

"What you think about, you bring about; what you believe, you become." This is Monica's philosophy, derived from her twenty-five years of experience as a Clairvoyant, Light Worker and Medium, living in Ontario, Canada. Monica has been a guest speaker at various Spiritualist churches, conveying Spirit greetings and messages from loved ones during Sunday services, All Mediums Nights, Healing Services, Meditation Services and special fundraising events. She's been an advisor to several international business leaders and connects with all of her clients on a level of love light and empathy. She delivers messages containing ideal outcomes and positive solutions with the help of her guides. If you'd like Monica to help shape your destiny, you can find her at PsychicAccess.com.


One Response to Supported By Spirit – Part 1