law of probability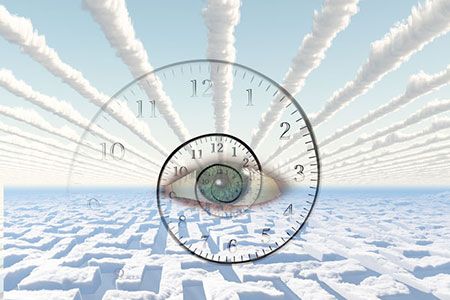 During a psychic reading it is not unusual for the question to arise, "When will this happen?" The human mind is naturally geared towards anticipating, planning, strategizing and looking for patterns and solutions.  Asking 'when' supports our goal to ensure progress in the hopes of achievement.
The desire to know or estimate when something will occur can be traced as far back as ancient times, when our ancestors relied upon the movement of the planets and changing seasons for planting seeds, harvesting crops, stockpiling food, and so on.
In the physical world we have schedules to adhere to these days, and our time is dictated every day by clocks, watches and time zones. However, in the spirit realm there is no such thing as 'time' as we know it.
What if all clocks were obliterated and we had no more calendars saying which day of the week it is?  Some metaphysicians and spiritualists believe that humanity invented what we know as 'time' and 'dates' as a means to measure the progress of our species.
Psychics can see into the future of probable outcomes for their clients to help them make choices that will support a specific outcome. These predictions come from the spirit realm.
There is however one problem with that. Remember, in the world of Spirit there is no such thing as chronological time. So, when a psychic sees a particular future event during a reading, a number of factors may still determine or change the timing of when it might occur.  This is also known as 'divine timing.'
The main factor usually influencing the 'when' of an outcome is our own free will. The choices and decisions we make every day can either speed up, slow down or even prevents outcomes from manifesting. The second factor is what is known as 'divine timing.' Spirit may hold off on a certain outcome, for example, until the circumstances are ideal and we are ready for it to come to pass.