The Self-Healing Miracle Of Letting Go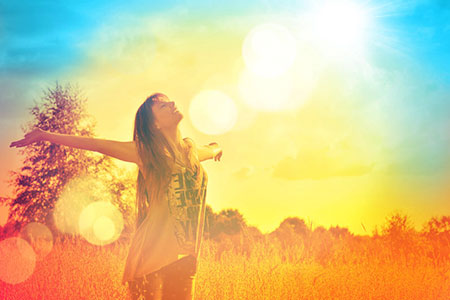 In the mid-90s, I had the opportunity to attend The Sedona Method Technique Teacher Training course in Arizona. The experience pierced the core of my being and changed my life forever.
Initially, I was reluctant to go, because I was living in Michigan at the time with my husband and two young daughters. My youngest was around a year old and our older daughter was only five. We had not been living in Michigan very long as we had only recently moved there, and I was terribly worried about leaving them for two weeks!
Nevertheless, I convinced myself to go, because my husband had gone to a previous workshop and raved about how it transformed his life. I sensed it would be good tool to incorporate into my psychic readings and metaphysical work.
When I arrived at the workshop there were attendees from all over the world, including psychiatrists, psychologists, and even scientists. To be honest, I felt a little awkward being thrown in with a bunch of 'genius nerds' with various fancy post-graduate degrees. It was a bit intimidating to feel that many of them probably had a much better understanding and formal education on human behavior than I did. However, that did not prevent me from also learning this wonderful technique.
The Sedona Method is based on the concept of Emotional Intelligence (EQ). It is different from intellectual intelligence, because it refers to our ability to recognize and regulate our own emotions, and how skilled we are at using social awareness to find solutions to daily challenges and life problems.
The Sedona Method therefore teaches one how to improve your EQ. In the same way we can go to the gym to strengthen a muscle, or do brain training puzzles to improve our memory, we can also train and develop our emotional intelligence.
Our natural impulse when something makes us sad, angry, or fearful, is to resist and fight back, or shut down emotionally to it. Emotional intelligence requires that we take a step back, take a breath, and release the urge to go with a kneejerk reaction of firing back or shutting down.
Truth can be found by a process of eliminating wrong thoughts, which are thoughts of limitation. When all thoughts of limitation are eliminated, what remains is our natural, unlimited, Self ~ Lester Levinson
The basic principle of The Sedona Method is that it teaches one how to 'release resistance.' When you release resistance, you create space in your life for a better, higher energy vibration. Say you are constantly struggling with a feeling of anger. The first and easiest thing to do is to blame someone or something for the anger. But in the end, you will still be left with that same feeling of destructive anger. We tend to get locked into emotional patterns that build up over time and become malignant. This is very toxic and the reason why many people wind up in counseling and therapy.
The Sedona Method relies on a simple, non-invasive series of questions that empowers you to release unwanted emotion and to feel more freedom. It enables you to return to a natural state of being. Releasing a negative emotion doesn't mean you are making light of what is bothering you. Rather, it leads you closer to getting what you actually want.
Releasing an emotion also doesn't mean someone else is right and you are wrong. It simply means that you love and respect yourself enough to not want to carry around negativity that is weighing you down. Releasing doesn't mean you have to let go of wanting what you want, it is helping release what's getting in the way of getting what you want.
In relationship matters, if someone has hurt you, it is natural to feel sad or angry. However, there comes a point where it doesn't feel comfortable or natural to hold on to unwanted feelings. Rather than focusing on the action of the other person, we need to instead draw our awareness back to the feeling or emotion it has left us with.
This is where the emotional intelligence comes in. You could spend the rest of your life giving away your divine personal power to another person and their wrongful actions, or you can experience freedom from these unwanted feelings and move on with your life by getting what you really want.
All unhappiness is caused by our trying to be limited, to be an ego. The more we are our Self, the happier we are. We will never be completely happy until we are completely being our Self ~ Lester Levinson
Emotional challenges are a part of life. Our feelings rise up to be felt, experienced and embraced, not to be 'gotten rid of.' That is not what The Sedona Method is about. If you embrace or totally allow an emotion to come in, just like welcoming an old friend knocking at your door, it amounts to releasing it. Letting go and allowing is the same thing.
Some of the Sedona questions that I found most enlightening during this workshop were:
Would you rather be right, or would you rather be free?
Could you let go of wanting to control this other person?
Could you let go of wanting someone else's approval?
At the time I had to put my notebook and pen on the floor, get out of my own way, and actually experience what the instructor was introducing me to. It was total freedom and it allowed me to step outside the constraints of self-limiting beliefs and into the magical realm of limitless possibilities.
After the workshop, family and friends immediately noticed a distinct difference in me, and how I now handled people and situations. I have also shared this technique with my clients for decades now and continue to see consistent results in their lives.
When we become willing to let go, expand and grow as a soul, the Universe has endless ways of manifesting miracles and gifts for us that we ourselves could never have imagined.

About The Author: Isadora

Known as The Psychic's Psychic, since 1998, Isadora has read for thousands all over the world, her impressive list including clients from the Obama administration, Fortune 500 CEO's and notable names in Hollywood. Her detailed (Gemini) accuracy is nothing short of astounding, with her ability to see people at the Soul Level and clearly answer questions on a wide range of subjects, from relationship matters, business decisions, to past lives, etc.—anything that requires clear answers and pin-point insight. She has the ability to identify hidden patterns that run beneath your current situation, providing you with information to positively change your future. If you'd like a reading with this compassionate, straight forward, laser-accurate and dedicated Psychic, you can find Isadora at PsychicAccess.com.