Remember, You Are Never Alone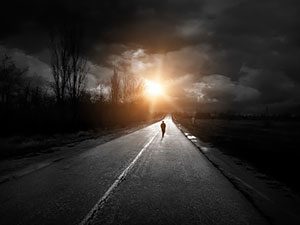 The night creeps up on us so fast. We had so many plans for the day that is gone. We were sure that today was the day the miracles will come, will start to flow. Yes, we made some gains, we took out some of the obstacles in our path, but here we are in the darkest part of the night, still at the place where our doubts, our anger, our worries start to surface again.
In these moments we begin to feel alone – a ship without a life raft, no one to call, no one to care.
Remember, we are never alone. Energies around us, the old gone on before, ancients, the very universe is here to hear our cry, our call. There are answers within not only ourselves, but there are messengers sent on Earth to listen, to hear, to care. The messengers come because the Great spirit has sent each one to us in just the right moment.
The most terrible poverty is loneliness, and the feeling of being unloved ~ Mother Teresa
An animal we don't normally see may show up on our path, to instinctively give us what strengths we may need to use on this road. An old beggar on the street, asking for a few coins, may come out with words that stun us, as these are the exact words we needed to hear.
We reach out in chat groups for online support, hearing craziness, hearing advice that we can barely "realistically" believe. We have become cynical, forgetting that the universe puts in our path what we need, when we need it.
There is no such thing as "being alone." We have all of the universe around us. So, sing out to the universe your pains, your despair. Your heart will receive the messages you need, the answers you want,
We talk, and talk, and talk, like a ping-pong ball going back, forth, and back again, hitting the table in the right places at times, at other times flying way overhead, missing the mark. Many times we are so busy thinking of our next words, we send the ball way over the top, as we don't really hear what the other person is saying. We are so busy trying to justify our stance, our position, that we miss important ideas, thoughts.
The eternal quest of the individual human being is to shatter his loneliness ~ Norman Cousins
Being deeply loved by someone gives you strength, while loving someone gives you courage. But sometimes we plain miss the heart. When we are listening carefully, we can hear the heart. How many times do we hear people saying, "I'm never marrying. I'm want to be alone." Yet, the tone, the underlying words that come with it, speak of the loneliness, the fear of being alone.
Humankind is not meant to be alone. All the of universe is set up in pairs. All of Mother Earth reminds us of pairs, mates, even opposites: light and dark; day and night; positive and negative.
We often wonder if, just if, we are meant to have a partner, because he whole process shouldn't be so hard, take so long? The idea is to build faith, courage. Build your own being, your own inner strength, for you will reach your goal, only to set another. You will find the answers, only to seek more.
Yet, the answers will only come if you love, if you listen.

About The Author: Mariella

Mariella is a New York resident, born in Italy, who began accurately reading at the age of eleven with just an ordinary deck of playing cards. She's since designed her own deck of Tarot cards as well as a unique time board that provides clients with startlingly accurate time frames for her predictions. For a reading with this warm, funny, and highly detailed Clairvoyant and Empath, you can find Mariella at PsychicAccess.com.


This site uses Akismet to reduce spam. Learn how your comment data is processed.