Two Wolves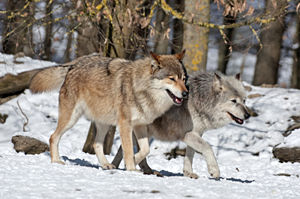 The tale of the Two Wolves remains one of my favorites from my my childhood. The moral of this little story guides continues to guide me every day of my life.
One evening an old Cherokee told his granddaughter about a battle that goes on inside people.
He said, "My daughter, the battle is between two wolves inside us all.
One is evil. It is anger, envy, jealousy, sorrow, regret, greed, arrogance, self-pity, guilt, resentment, inferiority, lies, false pride, superiority and ego.
The other is good. It is joy, peace, hope, serenity, humility, kindness, benevolence, empathy, generosity, truth, compassion and faith."
Wolf is the Grand Teacher. Wolf is the sage, who after many winters upon the sacred path and seeking the ways of wisdom, returns to share new knowledge with the tribe ~ Robert Ghost Wolf
The granddaughter thought about it for a minute and then asked her grandfather, "Which wolf wins?"
The old Cherokee simply replied, "The one you feed."
About The Author: Mountain Sage

Mountain Sage's profession is Metaphysical Academics. Her extensive training includes Oracle, Healing, Universal Laws & Principles, the Sacred Circle and Psychic Shielding. Focus includes Ascended Masters, Altars, Minerals, etc. She holds the great honor of Oracle Carrier by her tribe due to her outstanding psychic ability, passion for the psychic realm, integrity and sacred work. Get a psychic reading with Mountain Sage at PsychicAccess.com.