Let It Go Like The Leaves Of Fall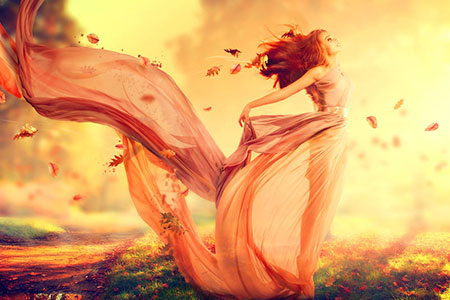 Sitting at my living room's huge picture window this morning, I saw the trees blowing in the wind outside and the colorful leaves that are slowly turning, before they will finally let go of those branches that they were a part of for so long.
The turn of the season is in full swing outside my window and the morning rain has passed. It is a typical fall day here. You really truly never know what you're going to get with our weather. People often say the weather here is bipolar! We tend to get all the seasons in one day – summer, fall and sometimes even winter, all in one day!  
Earlier it was raining outside – a great time for me to sit quietly and indulge in some deep mediation and chakra balancing. I do this to raise my vibration for the day ahead, which will include the channeling of messages for my clients, courtesy of their spirit guides, ancestors and dearly departed loved ones. 
After calibrating my energy centers. I invited my main guide to share with me some general spiritual guidance that may benefit all of my clients today. Is there anything that I need to share with them at this time?
I closed my eyes and went in deep. My guide told me to help heal those who need it at the core level in these difficult times. I am to help them to let go of feelings that they have struggled with since childhood, and to replace it with healing light and invite in new, higher vibrations. 

Keeping pent-up emotions is causing much dis-ease these days, and it has been hindering many people who will be approaching me today for help, spirit said. I need to plant seeds of healing in their minds and teach them that they have the power to do it too! 
Autumn leaves don't fall, they fly. They take their time and wander on this their only chance to soar ~ Delia Owens
Family traumas tend to get imprinted in our genetic DNA on a cellular level, and then shared from generation to generation. This is not good. We must eliminate it at the root and break the cycle.
I was given techniques to share with those who need it, to help them heal and protect their energy on all levels. Like a medicinal, soothing balm to heal the soul. Spirit reminded me to teach more people how to re-calibrate and heal their energy, and then how to protect their energy, so that it no longer can be so easily disrupted and depleted. This is self-care at the very core level.
A wind has blown the rain away and blown the sky away and all the leaves away, and the trees stand. I think, I too, have known autumn too long ~ E.E. Cummings
The first client I spoke to today just messaged me. She greatly benefited from my new focus ton energy healing. She says she was able to get some important things done after our call, without having one of her usual panic attacks! It made me feel so good to know that I had helped her in this way.  
Too often we don't address certain things that keep us stagnant and paralyzed in a state of fear or anxiety. It is only until we learn the techniques of 'letting go,' like the fall leaves outside my window, that we can recognize the beauty, magic and opportunity in every new chapter, and each new season of our lives!  
The storm has passed. The leaves have turned. Maybe it is time to release it. Just let it go.

About The Author: Moon Goddess

Moon Goddess is a third generation empathic healer and seer. She started to give healing readings to people more than 20 years ago. She has always been interested and studied all things metaphysical from a young age. Being hypersensitive she can feel and see things before they happen. Utilizing the Tarot, and with the help of her Guides, she is a source of support for many people all over the world. After he passed over, her grandfather kept his promise and came back to say goodbye and gave her the most amazing experience. Moon knows there truly is a Heaven, and it is wonderful! Sharing her experience has helped many people after they have lost someone, or anyone experiencing some form of grief. Get a reading with Moon Goddess now at PsychicAccess.com.


This site uses Akismet to reduce spam. Learn how your comment data is processed.