Mediumship Messages From Dearly Departed Pets
Published
November 8, 2020
|
By
Shani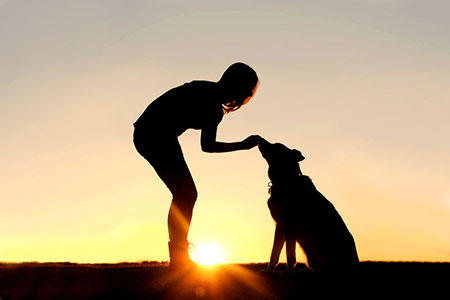 When I connect with the souls of deceased pets, I find they are often very eager to let their humans know that they are doing perfectly fine, since their transition to spirit. This is especially true in cases where euthanasia was the last resort.
Pet owners tend to second-guess having to make such a decision, and they often hold on to a lot of guilt. We humans tend to over-think these matters. Was it the right thing to do?  
I have also had instances where a pet left this world due to some random accident for which the owner feels responsible, even when they know on a rational level that they were powerless to have prevented the incident. 
In mediumship readings the animals are always insistent in letting their beloved humans know that they are now in a good place, and doing well. They often also relay how, upon their arrival, they had been greeted or welcomed to the other side by the human's departed loved ones and other pets.  
Our animal friends will sometimes also come through with humorous evidence to validate that it is indeed them. For example, just last week a client contacted me about her beloved dog Hagrid, who had passed just four days prior. Mu schedule at the time did not allow me to read for her for a couple of days, but boy was Hagrid insistent that I give her some reassurance in the interim! He kept coming into my mind, no matter what I was busy with, and until I had delivered each message, he wasn't going to let up.  
For example, he kept showing me a bird bath, while telling me that it needs a much deeper cleaning. At first, I felt uneasy contacting my client with such an odd, frivolous message. She was already in so much grief, I certainly didn't want to bother her with something that seemed so silly and irrelevant. For all I knew, she might live in an apartment and not even have a garden, let alone own a bird bath!  
If there are no dogs in Heaven, then when I die I want to go where they went ~ Will Rogers
But the message persisted, like I was being haunted by it, and finally I contacted her. "Yes, I do have a bird bath outside" she said. "I fact, I just finished cleaning it out earlier today. Why do you ask?" I then had to tell her that Hagrid feels she didn't do a very good job with it. She later admitted that she actually went back out and cleaned that birdbath all over again!
Hagrid also transitioned after my client had to make the difficult decision about euthanasia. Such a decision is especially heartbreaking when the animal appears to be resisting the process of letting go. Sometimes there is even a physical reaction at the end, even a loud cry or howl, after their soul has left the body.  
This is what happened with Hagrid also, but he reassured me that the process was only traumatic for my client and her husband, because he was actually relieved to be released from his discomfort. His soul had already left the body and those upsetting final responses were merely a physical reflex. He was no longer there – he was already on his flight back home!
Hagrid also showed me a cute little dog with a huge personality. Apparently, he met Hagrid upon his passing. My client knew exactly who the cheeky little dog was. He was Hagrid's predecessor.  
Hagrid also said he is relieved to finally be out of his 'swollen shell.' My client confirmed that for a long time his skin was very tight and uncomfortable, to the extent that she had to take him for some medical drainage procedure. He further promised that he would be back frequently to visit my client and her husband, giving them a gentle tug of the trouser leg or blouse cuff, to let them know that he is right there. 
Sometimes losing a pet is more painful than losing a human because in the case of the pet, you were not pretending to love it ~ Amy Sedaris
My first profound experience of seeing one of my own pets who'd crossed over, was some decades ago. I had adopted a mother and son duo of boxers, whom I adored. Trudy had crossed over a few years prior to this paranormal incident, and her son, Major, wasn't doing too well health-wise. He'd often stare at me with questioning eyes, and I would selfishly plead with him, "Please don't leave me."  
One evening, I was washing dishes, while looking out the kitchen window. Suddenly, there was Trudy, sitting in the driveway, as clear as day! "It is time for Major to come home," she said. "I have come to take him away with me." Then she disappeared just as suddenly as she had appeared.  
Shaking my head in disbelief, I quickly brushed off the incident. I secretly hoped it was just my wild imagination, and not an actual apparition. But, returning from work the following day, my dad met me in the driveway with the awful news. "Major has gone," he said. 
These days, such phenomena are a normal part of my daily reality as a psychic reader. At times, it can still be a bit nerve-racking to deliver certain messages about people's pets, especially those that may come across as being a bit weird or 'over the top.'  
Some time ago, for example, I communicated with the cutest little dog, who presented herself as a very confident little diva with a royal demeanor about her. I mean, I even saw the tiaras and glamorous outfits! Weird, right? But, I took a deep breath and courageously passed on to the client what I was seeing. Well, turns out this particular little princess did indeed have her own collection of tiny tiaras and special attire before she crossed the rainbow bridge!

About The Author: Shani

Shani is a qualified practitioner in Reiki, aromatherapy, reflexology, body spin, and animal telepathy who received psychic development training at the Arthur Findlay College of Psychic Research in England. A published writer, her articles and predictions have appeared in several respected magazines and on psychic websites, and she has read for many celebrities and even heads of state in Africa. Because of her empathy, people find it easy to connect with her. Every month, she attends a psychic circle and the information that comes through from Spirit never ceases to amaze everyone present. Though she was born in London, Shani has traveled the globe and has studied the art of African Mysticism, bringing her unique flavor to those seeking her incredible talents. What she has taken away from her many travels abroad, is that there is always a sort of longing clients have to be connected to the source of their being. Get a reading with Shani at PsychicAccess.com.


Posted in

Afterlife, Mediumship, Paranormal Phenomena, Psychic Phenomena, Psychic Readings
|
Tagged

afterlife, animals, apparition, bereavement, clairaudience, clairvoyance, crossing over, dog whisperer, dogs, evidential mediumship, ghost whisperer, ghosts, grief, haunting, heaven, humor, loss, mediumship, mediumship reading, mental mediumship, paranormal, paranormal phenomena, pet psychic, pets, psychic medium, psychic reading, reading, soul, soul energy, soul family, soul group, spirit communication, spirit contact, spiritism, spiritual messages, spiritualism, the other side, visitations
One Response to Mediumship Messages From Dearly Departed Pets
This site uses Akismet to reduce spam. Learn how your comment data is processed.