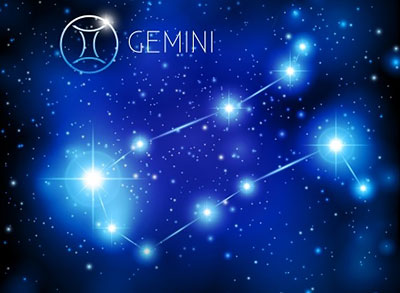 The glyph for those born under a Gemini Sun, between May 21 and June 21, is the Roman numeral for the number 2. The Twins. Like their symbol, Gemini tends to have more than one side to their personality. They may have a public persona, and an entirely different private side seen only by their closest friends and confidantes.
Many Geminis are excellent communicators and love to talk. This comes as no surprise, since their planetary ruler is Mercury, the messenger. Talk to a Gemini, and you'll be talking to someone who is witty, intelligent, and a quick thinker. Sometimes they may forget to put on a filter, so be prepared for anything that comes out. They're likely to be found in the middle of any lively conversation or party, and chances are, if you've ever met a persuasive salesman, he had Gemini somewhere in his natal chart. Read the rest of this entry »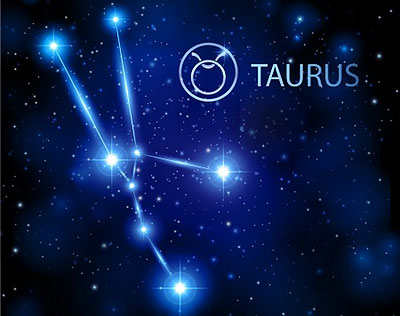 The second sign of the zodiac, Taurus (the Bull) is a fixed Earth sign and known for its practicality, thrift, and steadiness. But there's more to this sign than just being grounded.
Since Taurus is ruled by Venus, the planet of love and beauty, those born under this sign, between April 20th and May 21st, are sensual and often make great lovers. In the non-romantic sense, they are devoted to their friends and family and can be very generous.
At work, Taurus will go the extra mile without seeking the glory. Naturally thrifty, they're the perfect person to manage money and accounts. This doesn't mean Taureans are boring accountants in khakis!
Taurus has a gift for fashion and creative endeavors and can often be found in the world of haute couture, as well as in the ranks of famous musicians (among them Bono, Stevie Wonder, and Adele.) Fields such as architecture and music management are perfect for the Bull, who appreciates a blend of the practical and indulgent. Read the rest of this entry »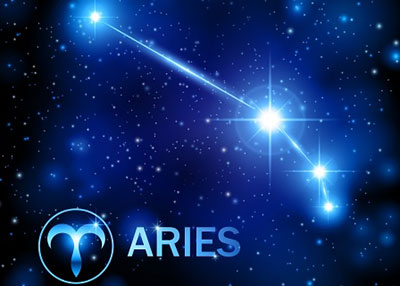 The Sun moves into Aries upon the Spring Equinox, at the beginning of the astrological year, making March 21st to April 20th the approximate astrological dates for this first sign of the zodiac. Appropriate, considering the Ram's motto might be "me first!"
Aries, the Ram, is not only the first sign of the zodiac, it is also number one in many other ways. People with a strong Aries influence in their chart are likely to be forthcoming, pioneering, and independent spirits. Just look at the sign's glyph (symbol), which looks like a ram with its head lowered. It says it all.
Perhaps the most traditionally masculine sign in the zodiac, Aries is ruled by Mars (the god of war), its corresponding color is red, and it is a cardinal (leading) Fire sign. That's some heady symbolism! No wonder that even the women born under Aries (think warrior types like Sarah Michelle "Buffy" Gellar, Lucy "Xena" Lawless, and pioneering feminist Gloria Steinem) are likely to have nerves of steel… or perhaps of diamond, another Arian symbol. Read the rest of this entry »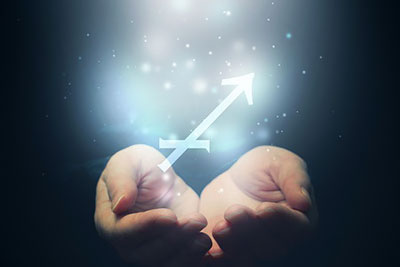 The Sun moved into the sign of Sagittarius, the Archer, on November 22nd and will remain there until December 21st. Sagittarius is a mutable (dual-natured) and masculine energy sign ruled by the element of Fire. If we look at its symbols, we can begin to better understand those born this time of year.
The constellation Sagittarius is a centaur – half man, half horse. Sagittarians are often said to have a logical, philosophical side, along with a more earthy, fun-loving streak, which represents mankind's struggle between his heavenly and animalistic natures. Its glyph (astrological symbol) is an arrow pointing upward, which is appropriate for a sign whose nature is to constantly learn and question everything!
If you've ever known a Sagittarian, you'll have known someone who is adventurous and seeks to explore every part of their life. Unlike some of the other Sun signs, these people may want knowledge for its own sake, or to satisfy personal curiosity. Read the rest of this entry »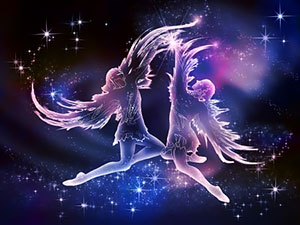 Born between May 22 and June 21, Gemini are adjustable, watchful, sociable, quick witted, amusing, and smart. They can also be argumentative, self-centered, inconsistent, sly, dominating, and unpredictable.
THE UPSIDE
"Forever young" is a term that goes well with Gemini. Their faces are filled with curiosity, extroversion, and happiness. They don't settle for the expected but, are always looking for interesting arenas. Gemini have a love of life that is enhanced by a quick wit. They hold many interests and love to fully engage new interest. The possibilities are endless and Gemini are always looking for doors that are swinging open. Read the rest of this entry »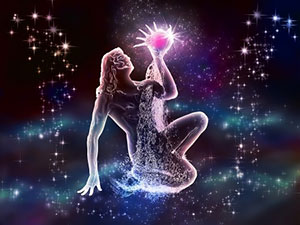 Born between January 21st and February 19th, Aquarians are intelligent, understanding, fair, charitable, democratic, progressive, and rational. They can also be suspicious, forgetful, easily hurt, long-winded, inconsistent , rebellious, impulsive, and isolated.
THE UPSIDE
Aquarians are natural born visionaries and philanthropists. They believe in the equality of all people. They have the ability to set aside bias and connect with others. They love to be unique and think for themselves. They are lively and inventive in their thinking. Aquarians look forward to the future and all its technologies. They are unafraid. Aquarians can be easy to get along with and charismatic. They collect a wide variety of friends or acquaintances. They enjoy, and delight in the differences between them. Aquarians are well-liked. Others are drawn to their open-minded intelligence. Read the rest of this entry »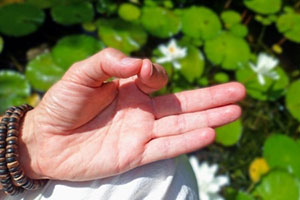 In Kundalini Yoga, an ancient spiritual healing science, the fingers have deep spiritual meaning that coordinates with Astrology, emotions, body, mind and soul. We use the fingers to create mudras which trigger certain parts of the brain. Mudra is Sanskrit for "mark", "seal", or "gesture". They are 10,000 year old hand gestures that help to heal and empower us.
Mudras can be found everywhere in daily life. Hand gestures are a part of every culture. Just like the spoken and written word, they can be used for positive or negative. Sign language, for example, is a form of mudras. The military uses hand gestures as a symbol of respect. Read the rest of this entry »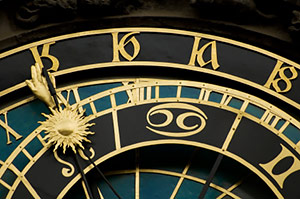 A number of clients have asked me how astrology can be used to determine a good time to have elective surgery. It does very much depend on the person's natal chart, but here are some general guidelines for planning the timing of surgery and what to avoid.
When not to have surgery
1. Never when the Moon is in Virgo, Gemini, Pisces, or Sagittarius.
2. Never five days before, or after a Full Moon
3. Not when the Moon is void, of course, because it poses a high risk for complications. Read the rest of this entry »