Don't Let Your Ex Jinx Your Love Life!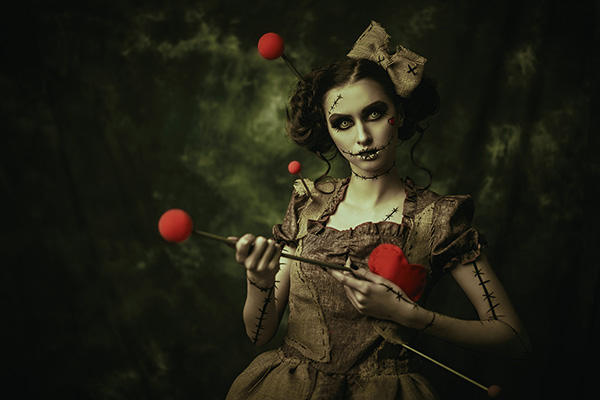 I just did a phone reading for a Psychic Access client whose first words were, "Do you think my ex put a curse on me to jinx my love life?"
As always, I turned to the spirit realm for guidance. A very close friend of the client, who had crossed over just a few months ago, then came forward with the answers.
"A recently deceased friend of yours says you are jinxing yourself," I replied. "He says you cannot expect things to change for the better if you keep repeating the same old patterns, looking for love in all the wrong places, with all the wrong people, for all the wrong reasons.
"Um, I don't see how I'm the cause of the problem here," my client countered. "I've met many women since my last relationship, and all of they seem to want from me is financial support, or to fix their house, or to solve their legal problems, or to somehow take care of all their problems."
"Well, what do you expect?" replied his friend from the spirit realm. "The first thing you always tell women is how much money you make because you feel the need to compensate for your lack of self-worth. Your ex made you feel you were worthless without all the money you spent on her all the time. But you have so much more to offer than your financial success. You are a good man with a good heart. You don't have to lead with money all the time," his friend said.
Spirit never sugarcoats, and his friend certainly was not holding back. Next, I had to ask my client if he was really ready to meet someone new.
"Your friend claims you have not been completely honest with yourself? He says you are still in love with your ex-girlfriend."
Sometimes you have to give up on the people you love, because they're not the people you thought they were ~ Karen Salmansohn
"Yes, I still have feelings for her," he confessed. "But I am doing my best to move on with my life."
His friend in spirit then explained that it was not wise of him to expect a new person to fall head over heels for him while he was still in love with someone from the past. How could such a new relationship possibly work? Such an unbalanced relationship rarely lasts long.
"Your friend says you need to take the time to process your feelings about your ex-girlfriend and really think about what you want, need and deserve in a relationship," I told him.
"Don't settle for less by trying to quickly replace your ex so you can avoid dealing with the loss of your previous relationship. Holding on to the past and feeling unworthy of love will not get you a healthy new relationship."
His reply was that he had hoped meeting someone new might take his mind off her. But the message came again loud and clear: "You cannot expect to light a new flame in our lives while we are still trying to nurture an old flame that has gone out."
The only love 'hex' or 'jinx' that has been plaguing my client is the curse he has placed upon himself. In romance there is probably no worse self-inflicted 'curse' than an unbroken energy cord of unrequited love. It is often very difficult for someone in love to let go of the idea that a lost love is not likely to return. I have worked with many clients over the years for whom the fairy tale had truly ended, but they refused to accept it.
Maybe I was destined to forever fall in love with people I couldn't have. Maybe there's a whole assortment of impossible people waiting for me to find them. Waiting to make me feel the same impossibility over and over again ~ Carol Rifka Brunt
Some people wait years for the other person to come to their senses, realize what they have lost, and admit that it was a mistake to break up. They are convinced that someday soon their former partner will magically return and beg for forgiveness. Of course, this can happen, but such cases are no doubt the rare exception.
To make matters worse, some disappointed lovers who are struggling to move on also develop a new list of unrealistically high standards for the next person, which means they will never have much of a chance. They will always find something wrong with anyone new, and even the smallest things will seem like big red flags.
To truly move on and invite new romantic opportunities into our lives, we must be willing to give up the idea that we can turn back time or change the past. We must spiritually release our past relationships, wipe the energy slate clean and become wholeheartedly open and willing to give a new relationship a chance to grow and flourish. More often than not this begins with a courageous journey of self-healing and self-love.

About The Author: Elizabeth

Elizabeth's talents go back several generations. She found her own gifts and embraced them at an early age, recognizing the difference between herself and most others around her. She's since honed and mastered many metaphysical practices, providing hypnotherapy, Psychic Mediumship, Mysticism, and Hypno-Reiki to her clients in Maine, and in areas around the US and in Canada, where she travels. A lover of pets, they are her greatest teachers and these unconditionally loving creatures often chime in on a reading in addition to the Angels, Guides and loved ones who provide resolution and answers for each of her clients. Elizabeth is also an author with much spiritual wisdom to impart and is currently working on a book. If you'd like to be a recipient of her unique Psychic Wisdom, find peace and receive answers that will also benefit your highest good, you can reach Elizabeth at Psychic Access.