The Fire Season Of Love And Joy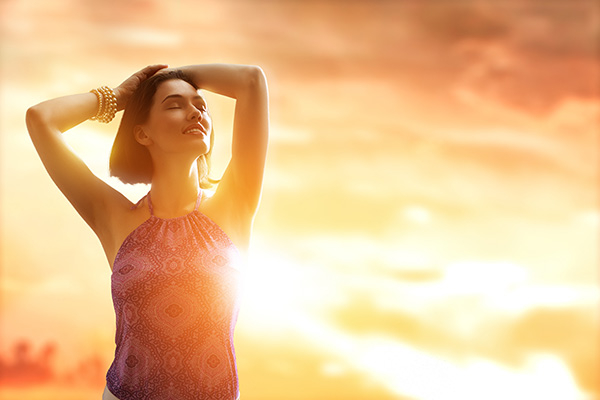 In Traditional Chinese Medicine (TCM), there are Five Elements, namely Wood, Fire, Earth, Metal, and Water. These elements are each associated with the seasons, certain emotional states, and specific organs in the physical body. I am personally fascinated with how accurate these correlations can be.
In the summer season, for example, the element of fire rules. The four organs associated with the fire element is the heart, small intestines, pericardium (or heart protector) and San Jiao, or the 'triple energizer,' which is the hollow space inside the trunk of the body.
In TCM, the solid organs each has its counterpart in a 'hollow organ (Fu).' The heart, for example, is a solid organ, and the small intestine its hollow counterpart. San Jiao is a body cavity that is able to influence the functioning of other organs and our overall health through the free movement of Qi, the fundamental life force energy.
The fire element represents expansion of energy expanding with heightened activity and excitement. It is further associated with love, joy, harmony, but also disharmony. In extreme cases, too much fiery excitement can cause insomnia, restlessness, and even manic behavior.
A good example of how the joy of the fire season manifests in our everyday life is the fact that summer is the peaktime of the year for weddings. This time of the year our hearts are most open, seeking to be filled with joy. We seem to radiate more light and love in the summer, just like the warm sunshine.
Summer has filled her veins with light and her heart is washed with noon ~ C. Day Lewis
So, why is it we sometimes feel the opposite in the summertime? Well, since the season is governed by the fire element, it can really heat things up too! When there's the right amount of fire, we feel love, passion, and joy, but when there's too much heat we feel uncomfortable, and there is less joy to be found.
I have even seen this with some of my clients. They attend engagement parties or wedding celebrations, where the happy couple and their other guests experience much joy and fulfilment, yet the client feels deflated, empty, or even depressed. They wonder if it will ever be their turn to meet that someone special, get married and experience the same kind of joy?
Spirit has shown me repeatedly over the years that everything always happens for a reason, in its own time and season. Until our own moment of joy comes, we do have the choice to indulge in self-pity or a victim mentality…or we can share in the joy of someone else's happiness and good fortune. In fact, being happy for others and celebrating their joys bring us a sense of inner peace and contentment, which in turn enables us to attract our own share of love and joy much more easily.
Attitude is everything when it comes to life and love. It is said that the heart overrides the mind, and that the mind cannot mute the heart. The heart speaks the language of love, and we are now in the fire season of the heart, but also of its hollow counterpart the small intestine, as well as the San Jiao trunk cavity. Will you choose to feel an empty void at the pit of your stomach, or a lonely yearning in your chest this summer…or will your heart simply be bursting with joy and love?
Fill your soul and mind with light and with a clear sky, just like the summer ~ Remez Sasson
If you are hoping to find a romantic partner, or already know someone you are interested in, make the most of the fire energy of this season to do things that open your heart chakra and bring yourself and others joy. Like attracts like. If you are experiencing frustration, sadness, loneliness or depression, or you simply feel unloved, then find something to love that ignites your heart fire. No need to wait for someone or something else to fill the void! Romantic love begins with joy and self-love.
A fun way to open your heart to love is to chant a Bija mantra, which is a short, one syllable Sanskrit word that is chanted silently or aloud. Bija mantras contain the essence or 'seed' energy of specific energies, elements, or intentions.
The Bija for the heart chakra is YAM, pronounced "YAHM." This sound resonates with the heart chakra and gently invites balance and healing to this energy center. While you chant this mantra, imagine an emerald green color with rose quartz pink around the edges filling your heart chakra.
Feed your heart, mind, and soul this summer with whatever brings you joy. Bring your focus and attention to your heart center and find ways to celebrate life and love. Strive to live more from your heart this summertime. You may just be amazed at who and what shows up in your life!

About The Author: Isadora

Known as The Psychic's Psychic, since 1998, Isadora has read for thousands all over the world, her impressive list including clients from the Obama administration, Fortune 500 CEO's and notable names in Hollywood. Her detailed (Gemini) accuracy is nothing short of astounding, with her ability to see people at the Soul Level and clearly answer questions on a wide range of subjects, from relationship matters, business decisions, to past lives, etc.—anything that requires clear answers and pin-point insight. She has the ability to identify hidden patterns that run beneath your current situation, providing you with information to positively change your future. If you'd like a reading with this compassionate, straight forward, laser-accurate and dedicated Psychic, you can find Isadora at PsychicAccess.com.